Does your dog have occasional bouts of vomiting that seem to be getting worse over time? Or does she vomit every time you feed her a particular treat?
Do you notice diarrhea when you feed your dog certain diets? Your pet may have a sensitive stomach.
Some dogs' sensitive stomachs must be addressed with an entirely new diet. It is no shock that the food your dog eats can be used to solve digestive problems, including a sensitive stomach.
The best dog food for a sensitive stomach has high-quality ingredients, is often lower in protein composition, and modifies the types of ingredients used to provide higher digestibility and absorption along with less reactivity.
Commercial diets may work better than homemade food for families who have dogs with sensitive stomachs. It may be difficult to provide balanced nutrition, vitamins and minerals, and enzymes in a compilation of raw ingredients at home.
What does a sensitive stomach mean for dogs?
A sensitive stomach in dogs is a fairly broad term that relates to signs that manifest in the gastrointestinal system. The syndrome can be divided into two major categories.
Diet-Related
Food intolerance and hypersensitivity are big factors in sensitive stomachs in dogs. You may also see it in sudden diet changes or if your dog eats something she shouldn't, like chocolate. Stress one cause of sensitive stomach issues that may respond to diet.
Health Concerns
Some disorders in dogs commonly present as gastrointestinal signs and initially can be mistakenly shrugged off as simple cases of a sensitive stomach.
Endocrine disorders like diabetes, infectious diseases like parvovirus, liver or kidney failure, foreign body obstruction, pancreatitis, and cancer all cause signs of gastric upset.
This is where a veterinary evaluation is key. If your dog shows any depression or shows the persistence of signs like vomiting or lack of appetite, rule out serious disorders before starting or continuing a food trial.
What are the top symptoms of a sensitive stomach in dogs?
According to Dr. Mahaney on an Animal Planet discussion, when dogs suffer from a sensitive stomach, it can be difficult to tell what is going on.
Signs can be as mild as a slight downturn in your pet's activity level to violent vomiting and explosive diarrhea.
Decreased appetite
Lack of appetite is not a very precise symptom since it can show up in many illnesses. Nevertheless, if your dog loses interest in his favorite treat or stops eating his main meals, it could indicate an isolated event of an upset stomach. If it occurs frequently, it could mean your dog has a sensitive stomach.
Nausea
Think of nausea if your dog salivates excessively, swallows continuously, or of course vomits. This is a common symptom of upper gastrointestinal disease.
Problems with the bowels
A dog who has a sensitive stomach may eventually show signs that have progressed to his large bowel. You may notice excessive gas when your companion had no prior problems.
Other symptoms of large bowel distress to look for are soft stools, straining to defecate, and diarrhea.
Large bowel irritation can manifest as mucus or fresh blood that is visible in the stool.
Vomiting
Vomiting, another ambiguous symptom, can occur with numerous ailments. Dogs with sensitive digestive tracts may vomit when they eat offending foods.
Some dogs vomit intermittently regardless of what they eat, and it may seem to have no rhyme or reason.
You would be surprised how many people tolerate vomiting as a normal part of their dogs' lives. While every dog may have an isolated episode where he cannot keep food down, multiple incidents of vomiting are not acceptable.
If your dog vomits acutely several times in a 24-hour period or chronically a couple of times every week, you should take it seriously.
Blood tests, radiographs, urinalyses, and other diagnostics can determine a cause and perhaps prevent a rapid decline in your pet's condition.
The following video illustrates how subtle the signs of an upset stomach in dogs can be. Eating grass can be a sign of digestive discomfort, or it can cause vomiting.
Notice in this example the dog is licking and swallowing a lot and actually appears nauseated at times without actually vomiting.
What are the best 4 foods for a sensitive stomach in dogs?
Whether your dog's sensitive stomach is caused by food intolerance or hypersensitivity will determine what dog food will be best for him.
Food allergies can be complex and necessitate eliminating ingredients that trigger symptoms. This often involves using novelty ingredients like duck or venison.
We chose dog foods based on the quality of ingredients, customer reviews, and overall effectiveness for sensitive digestive systems. We found the best dog food for this problem limits either the amount or type of ingredients.
Purina Pro Plan Focus Adult Sensitive Skin & Stomach
Pro Plan focus concentrates mostly on incorporating bland ingredients and prebiotics to support a healthy gut. Salmon is the first ingredient.
If your dog has food allergies to particular proteins, this dog food is an excellent choice for a novelty meat source.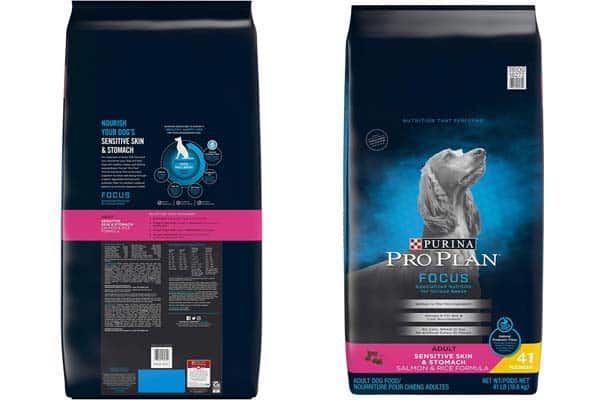 Pros
It uses no corn, wheat, or soy.
This food has a high palatability.
Salmon is the top ingredient, a major protein source, and the only meat.
Prebiotic fiber adds nutritional support for beneficial bacteria in the gut.
The recipe uses easy-to-digest carbohydrates like oatmeal.
Cons
This is not a grain-free food: use barley, oat, and rice.
Rachael Ray Nutrish Zero Grain Natural Salmon & Sweet Potato Recipe Grain-free Dry Dog food
Rachael Ray dog food offers an entire line that limits its ingredients. This particular recipe uses no grains and offers salmon as the first ingredient and a quality protein source.
It adds beet pulp as a highly-digestible fiber that can help stabilize the gut and provide useable energy.
Rachael ray provides food that is friendly to both sensitive and intolerant dogs.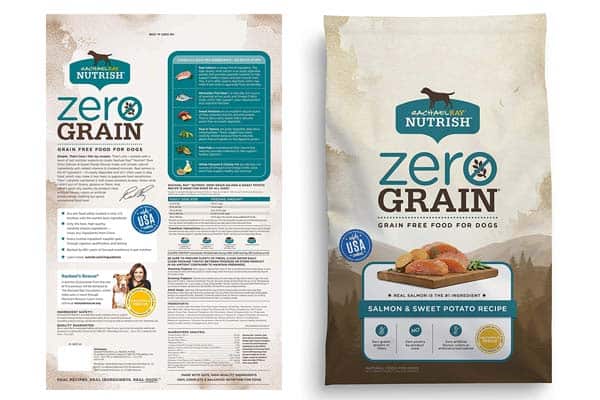 Check the prices of Amazon's Choice
Pros
Salmon as the top ingredient is a novel protein source.
Your dog will not be exposed to any grains or artificial colors or flavors.
The diet is gluten-free.
Omega-3 and omega-6 fatty acids come from menhaden fish meal and flaxseed, both easy on the digestive tract.
Cons
This recipe does contain chicken meal. If your dog is sensitive to chicken, this food will not suit him.
The food may smell like fish-based cat food.
Canidae All Life Stages Lamb Meal & Rice
Canidae has a signature style of formulating their recipes to feed all potential dogs in a household from a single bag.
This makes it convenient if you have a food-hypersensitive dog. With this food, choose for your allergic dog and then feed to everyone. An additional advantage is Canidae is vet-formulated.
Canidae uses nutritionally rich food with a high-protein formulation. It adds antioxidants, probiotics, and omega 6 and 3 fatty acids.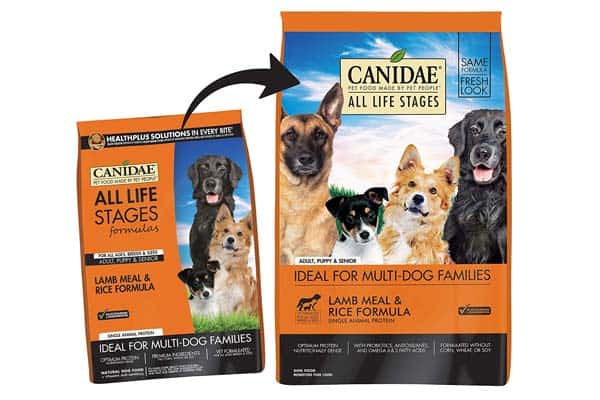 Check the prices on Amazon's Choice
Pros
No corn, soy, or wheat are in any formulas.
Lamb meal is the top ingredient and protein source. It provides a bland and novelty protein alternative.
The formulation adds probiotics after the heating process to ensure their viability.
One recipe is AAFCO-certified to feed all life stages and all breeds.
Cons
If your dog needs a grain-free diet, this dog food contains brown rice and barley.
Blue Buffalo Basics Limited Ingredient 
Blue Buffalo Basics Limited Ingredient Diet, Grain Free Natural Adult Dry Dog Food, Turkey and Potato
Does your dog have food allergies? She will truly benefit from this Blue Buffalo formula that uses only one meat protein source and novelty carbohydrates. Where many bland diets use rice, this formula utilizes potatoes.
Blue Buffalo uses the nutritional foods pumpkin and peas for energy and highly-digestible fiber to support optimal gut function.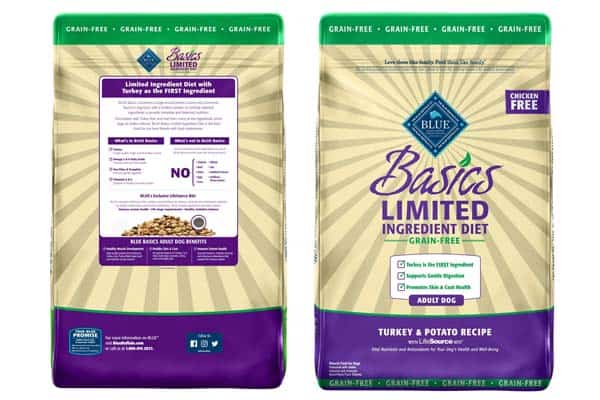 Pros
Turkey is the first ingredient and the only source of meat in this diet.
This food is great if your dog needs to avoid beef or chicken.
Ingredients are natural foods and their numbers are limited.
No grains feature in this formula.
It also helps with skin sensitivities.
Cons
This is not the food for you if you do not want to feed your dog peas or potatoes.
It is impossible to make a blanket recommendation for the best dog food for a sensitive stomach. Each dog has varying levels of tolerance for different foods that may be based on the type or amount of protein, fat, or carbohydrate. Many cases require a food trial to determine the dog food your pet tolerates best.
Nevertheless, we chose the dog foods we feel best to accomplish the goals of quality, effectiveness, and customer satisfaction for the specific problem of a sensitive stomach. Although by no means exhaustive, this list is a great place to start.