Puppies are adorable! Taking one look at a little Labrador Retriever puppy, with their still-growing puppy face that's on a head that's just a tad too large for their pudgy baby body, who can blame you for melting?
It's also amazing to know that Labs are great with all members of the family, easy to train, and are eager to please. When you add this together, you end up wanting to make sure that your puppy has all of the best puppy teething toys, play toys, and chew toys.
However, there's a little problem with this.
The market today is flooded with all different types of puppy toys! So, how do you know which ones are the best?
How do you know if a cheap puppy toy is a good puppy toy for your beloved baby Lab? Are there any toys that aren't recommended over others?
Puppy Toys
Before we talk about the ten best toys for Lab puppies, let's look at some of the key selection criteria that will help you pick the best toys for puppies. You must remember that not all puppy toys are created equal in terms of overall stability, durability, materials safety, and price.
The first thing that you should know is that puppies have different developmental play needs at different parts of their life.
You also need to be particularly attuned to certain stages of a puppy's life, especially when you're choosing toys.
Below you'll find three of the most important stages that you should keep in mind when you're picking out puppy toys:
Puppy Toys for 8-12 Weeks
Around eight to nine weeks is a transition time for most Labrador puppies. At this time, they're leaving their siblings and mom and are joining their new family.
Your puppy at this time is still growing quickly, and, because of this, require plenty of rest. However, they're also going to be anxious at the sudden change in their living situation.
However, you should know that this anxiety will show through two forms: crying and chewing.
The best toys for a puppy in this stage are going to be simple toys that are designed to keep your Lab busy without letting them get close enough to you or your family members so they can sink in a sharp puppy bite.
You should consider purchasing leash training toys, fetch toys, strong rope toys, rawhide chews, and other toys that will keep their sharp puppy teeth away from your face and hands are ideal at this stage.
Puppy Toys for 3-5 Months
This is the stage of your puppy's life where they are starting to gain more confidence as they become familiar with their new surroundings, new home, and family. Your Lab is growing stronger and bigger, and all they want to do right now is play – this usually means biting, growling, or roughhousing when it comes to Labs.
You might also notice that your Lab is teething during this stage as their baby teeth fall out, and new adult teeth start coming in. So, your Lab might not only want to but will need to bite anything that looks bite-sized to alleviate the pain and soreness that they feel as their teeth are growing in.
At this stage, you'll want to find the best teething toys for puppies and get a few.
Puppy Toys 6-9 Months
Around six months, your Lab will be almost done teething and might even have a full set of adult canines. Your Lab will have survived the change of their new teeth, the loss of their baby teeth, and the change in the household, along with more.
This is an excellent time to introduce complex, interactive puppy toys to combat boredom, treat finding, puzzle-solving, and slow feeding. These "big puppy" toys will help enrich your dog's brain as well as their body and can even teach your Lab how to entertain themselves when you're not able to play with them.
The good news is that there are plenty of puppy toys on the market today that you can choose from. So, let's talk about the top 10 best puppy toys that you can purchase for your Labrador retriever puppy.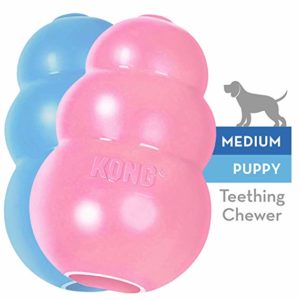 When trying to find the best toys for your Lab puppy, the classic KONG toy is something that every dog owner should buy. The classic KONG can last for years because they are designed to be completely durable no matter how much your dog chews on it, unlike other toys you might have purchased.
It works by you inserting a treat, some peanut butter, or both into the middle cylinder of the KONG; this makes it so that your dog has to work to get the treat. The outside of this KONG is made from durable rubber so that it can withstand even the sharpest of baby teeth.
There are plenty of benefits for giving this to your puppy, including the fact that it keeps them mentally and physically stimulated for extended periods. This is the perfect toy to purchase if you want a few minutes to yourself.
Pros:
Safe and reliable
Helps soothe gums and clean teeth
Made in the USA
Available in three sizes: S, M, and L
Recommended by vets and trainers worldwide
Cons:
You have to make sure that the KONG isn't too large for your dog; otherwise, they risk the chance of getting their jaw stuck.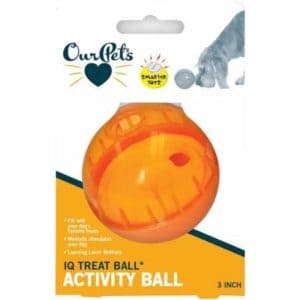 The OurPets Interactive IQ treat ball comes in a cube or a square – although, for puppies, it's recommended that you purchase the ball. This is because the ball is smaller and therefore more manageable for puppies and it moves around quickly.
All you need to do to get this treat ball working is remove the top, add a small amount of puppy food, and then put the top back on. Your Lab can then push the ball around, and slowly kernels of food will pop out as a reward for their efforts. This toy can keep your dog interesting for hours, making it so you can have a break from playing.
Pros:
Promotes healthy and active feeding
Adjustable feeding difficulty levels so you can continue to challenge your dog as they learn
Treats will fall out of the ball to reward your dog for being active
Twists apart for easy cleaning
Cons:
Not designed for small dogs, they can easily get their jaws stuck. Use this product when your puppy is much bigger.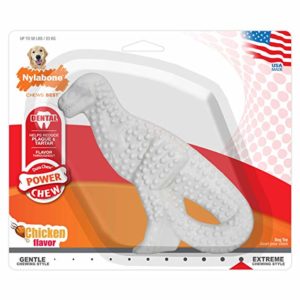 Nylabone products are great for puppies! This is because the materials that are used to make their products mimic the tough exterior of rawhide of bone, but they're so much harder to destroy. Some of these chews can last for years to come.
If you're looking for the best toys for puppies, you can't skip over Nylabone. Plus, this chew is incredibly adorable and is fun for your dog to play with.
This long-lasting chew toy helps alleviate some of the tooth pain your Lab might be experiencing. Plus, the ridges on this dinosaur are used to clean teeth and to control plaque and tartar buildup.
Pros:
Long-lasting chew toy
Tough, durable nylon bone
Helps clean teeth and control plaque and tartar
Cons:
Some super chewer dogs can bite through the plastic and rip off parts, which can be a choking hazard.
You don't get to choose what dinosaur you get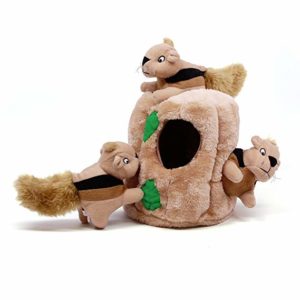 Outward Hound borough toys are adorable options for your Lab. Most dogs who receive one of these toys are obsessed with it because of how interesting it is. The squirrel option is one of the most popular designs, but you can also get a banana with monkeys, a tree stump with hedgehogs, or one of their other options.
How it works is you hide the squirrels into the "borough," with this toy it'll be the stump, and then encourage your Lab to seek them out.
This might not be the best option for heavy chewers because they are stuffed animals, but it's great for young, sweet puppies who need constant stimulation.
Pros:
This toy is adorable!
Makes for a tricky puzzle for your dog to solve
This toy challenges your dog's brain and keeps them occupied for hours
A great interactive dog game
Cons:
Not suitable for heavy chewers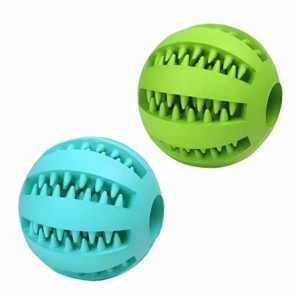 These toy balls aren't like normal balls. With these toy balls, you can slip treats in between the claw-like teeth; this gives your puppy an incentive to keep chewing. This is a perfect toy to keep your puppy occupied for a long time.
Another great thing about these toys is that it promotes great oral hygiene. The shape of the toy cleans teeth and massages the gums.
Pros:
Extra tough
Promotes great dental hygiene
Comes with two toy balls
Cons:
These balls are very small, so they're not ideal to use when your puppy is grown up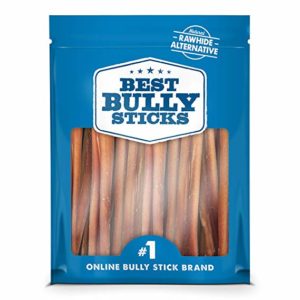 This option works as a toy but also as a treat. This is a treat that lasts longer than other treats and will keep your dog busy for a while.
These are great treat toys to give your puppy something delicious to chew on while still helping their developing teeth. What's great about these treats is that you can even give them to your Lab when they're full grown!
Pros:
Made from 100 percent all-natural Angus beef
Promotes dental health
High in protein
Fully digestible
Cons:
Tiny, which can be a choking hazard if you're not careful
These are great toys because they last for a long time. You could give your dog rawhide, and that bone would be gone in about ten minutes, but this chew stick is durable enough to withstand the chewing.
Another great feature is that this chew toy looks like a stick – which is something that dogs love to play with. However, this is a great substitute for sticks because there aren't any choking hazards of slivers.
Pros:
You can put treats inside this hollow stick toy
Made from durable nylon
Keeps your dog busy
Great for dogs up to 50 pounds
Cons:
Can become very sharp for heavy chewers and cause gums to bleed.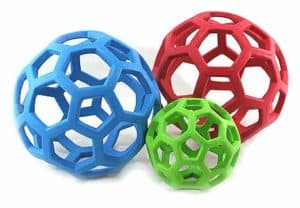 This is a great, versatile toy for puppies. The design of this ball is made so you can stuff socks, fabric, treats, or whatever you want inside the holes. The treats will be so close for your dog to get but will be so far away at the same time.
The best toys for puppies are those that challenge your dog both mentally and physically; this is a toy that does both. Plus, it gives you the flexibility to mix things up, so your Lab doesn't get bored.
Pros:
Can be used to dispense treats
Made from durable rubber
Promotes mental and physical challenges
Cons:
Not durable for heavy chewers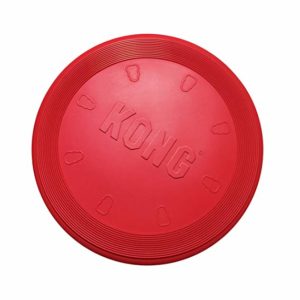 The KONG flyer gives you an early start to playing catch with your puppy. This toy is different from other frisbees because it's smaller and fits into your puppy's mouth. The KONG puppy flyer is made from a specialized rubber that won't hurt your dog's teeth. It's very durable and stands up to a puppy's chewing.
Pros:
Made from durable rubber
Supports healthy exercise
Available in two sizes: S and L
Cons:
Some buyers have concerns that this toy is a fake KONG toy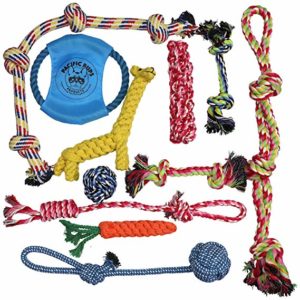 Rope toys are basic but are essential for puppies. Dogs love to chew a knotted rope because it helps to relieve some of the pressure from their teething. As a dog owner, you can easily jump in and use the rope for a game of tug of war or fetch.
Another important thing to note is that a rope toy has several benefits for a puppy's teeth. Chewing on the rope can help clean their teeth and reduce plaque buildup, while also massaging their gums.
Pros:
These ropes support efforts to save dogs from kill shelters
Plastic-free
A great toy for you to play with your dog
Cons:
Not ideal for heavy chewers