Labradors are the perfect companion for anyone looking for a dog ready for an adventure. Prized for being the pet who thrives when they're hiking or hunting, you can find this pet willing to run anywhere in the woods.
Keeping them healthy and active is not a struggle, but there is a specific amount of food they need to eat, so they're never eating too much or not enough.
Following a Labrador dog food chart is the best way to ensure your growing dog is developing at a steady pace that's healthy for them.
How to Keep Your Adult Labrador Healthy As They Grow Up
Once your dog reaches more than nine months old, it's time to step up your game because they're now pretty much considered an adult. Pay close attention to their ribs as that's usually the first place that starts to show weight loss.
However, this breed is known to enjoy food and eat everything whenever possible, and this is why you should keep an eye out to avoid overeating.
Labradors specifically are prone to hip dysplasia, which usually is caused by overeating and can lead to obesity. Be particular about what you feed them.
For the Labradors who aren't getting enough exercise but continue to eat consistently, it's vital that you give them an opportunity to move every day.
Some experts recommend having them jump in a pool and swim because it allows them to exercise without putting pressure on their joints.
Providing them with a solid routine with their exercise and for their diet is the key to them developing at a rate that is both healthy and safe.
Labrador Dog Food Chart
The following is a Labrador dog food chart that you should follow based on their weight. Take this with a grain of salt and use it to create a solid plan for their health.
Every dog develops in their own way, but this chart should give you the ability to understand better how much you should be feeding them.
Once dogs reach an adult age of nine months or older, estimating how much they need will be based on just their weight instead of just their age.
40-60 Lbs.
A Labrador will usually reach this weight once they enter about nine months to a year old. It's important that you feed them a solid 1,000-1,300 calories.
70-80 Lbs.
Once they reach this weight, they should be eating around 1,400-1,650 calories.
90-100 Lbs.
At this weight, 1,700-1,950 calories is a solid amount. It's smart to separate these across three meals to allow digestion and regain energy throughout the day.
What Kind Of Foods Do Adult Labradors Like To Eat?
Foods that are high in protein and complex carbohydrates are usually your best bet to keep them happy. They are a naturally high energy breed, so they are always in need of more calories to replace all the calories they're burning.
Go for something that is at least 25% protein of fish or meat, and that is a good sign it'll give them what they need.
3 Best Foods To Feed Your Adult Labrador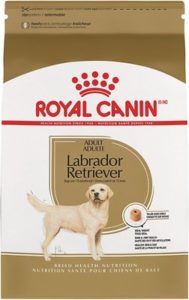 The Royal Canin over-delivers with every product they create, but this package is perfect for any Labrador.
Specifically made for purebred Labradors older than 15 months old, this is full of enriched EPA and DHA to help develop strong bones and support healthy joints.
Complex nutrients like fish oil are added in to help with maintaining their coat. It has donut-shaped kibble that helps encourage your dog to chew more which can help ease digestion.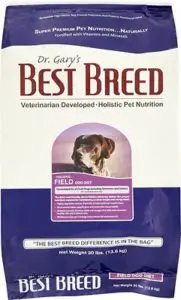 Made with your Labrador in mind, this product gives your dog the chance to have a holistic approach. This has a specialized recipe using premium chicken protein and wholesome grains that deliver sustainable energy for your dog as they move and stay active.
The ingredients combined help promote healthy bone muscles and development, alongside improving mobility and joint health.
Developed by veterinarians using a holistic approach, this product has no wheat, corn, or gluten meal artificial preservatives or flavors. It's the best way to keep your dog active and holistically energetic.
With 8 different flavors, there is no doubt you can find the right one that's going to be perfect for your Labrador. Providing 100% complete nutrition for adult dogs, this is known for being the tastiest for dogs because of the savory ingredients.
There are real tender chunks and turkey inside that makes it perfect for a dog wanting to get a taste of what you get to eat. Its palate-pleasing texture and wholesome ingredients make this perfect for any adult dog in need of some wet food.
What About Senior Labradors?
Once your dog reaches an age where they are a senior and a lot older, look out for food that is specialized to be for senior dogs who may exercise less and show signs of aging. Their metabolism may also slow down, so a specific meal might be good for them.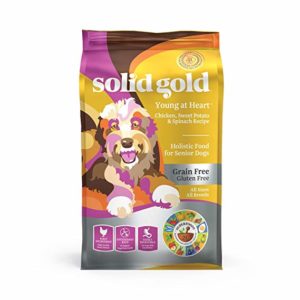 Solid Gold's Young at Heart dry dog food is perfect for any senior Labrador because it's both natural and gluten-free.
Designed for the senior dog in mind, the recipe contains the perfect amount of protein, vitamins, and minerals.
It contains all the right ingredients to be easily digestible even for the older dogs.
It provides an antioxidant-rich recipe meant to support longevity and improve vitality.
Any dog who is showing signs of aging should grab ahold of this for gaining back the energy they need at their age.
Labradors, as they get older, are troopers with a strong will to thrive. As they get older, you'll have a better gauge of how much to feed them.
The food above is all highly recommended because of their ingredients and how well they provide Labradors with much-needed protein and nutrients.
Following this Labrador dog food chart will help you know how much to give them, and these recommendations will be just what they need.