You can't help it. You love your dog like he's a member of your family because he truly is. When it comes to training your dog to walk on a leash properly, it can sometimes be challenging.
It seems that dogs, and especially big dogs, like to drag their owners along for the ride. Even though having a big, loveable dog is irresistible, larger dogs come with a lot of responsibility.
You'll want to use these tips and tricks when deciding which dog collar and leash is best for your larger breed dog.
How to Choose the Best Dog Collar and Leash
Leave Enough Room on Dog Collars
A dog collar serves many purposes. Every dog in the United States is required to have identification, a license, and proof of current rabies vaccination.
Naturally, it's the place where you connect your dog to his leash, so you want to be sure that your dog has at least 2 to 3 inches of space between his collar and his neck.
You'll want to check that you are able to snugly and comfortably fit at least 2 to 3 fingers between your dog's neck and her collar for optimal fit.
While a smaller amount of space is needed for smaller sized dogs, a larger dog has more power and therefore needs more room in her collar.
Flat or Standard Dog Collar
A flat collar is the most common type of dog collar and is the one that's appropriate for most dogs, including larger breeds.
Flat collars have a snap closure and are generally made of leather or nylon. They provide a comfortable fit and give your dog enough guidance that you're able to walk your dog on a leash with ease.
Martingale Dog Collar
A Martingale dog collar is a perfect choice if your dog is a breed that has a head smaller than its neck. Examples are Pit Bulls and Greyhounds.
The Martingale collar has two loops, with the larger loop going around the dog's neck. The smaller loop controls the amount of slack the collar gives your dog.
The American Humane Society recommends the use of a Martingale dog collar as a safer and kinder alternative to a choke collar while you're training your dog how to walk on a leash properly.
Dog Harness
Many dogs love to jump on people or to drag their owners along when they go for a walk. Using a dog harness is a good option for controlling your dog's behavior in a simple and humane way.
Once your dog is more advanced in her training, then you can try a standard flat collar, but a harness is effective in the meantime.
Leashes: Standard and Retractable
For dog leashes, you may want to consider either a standard leash or a retractable leash. While your dog is in the training stages, it's beneficial that you stick with a shorter leash and keep your dog close to you for better control.
As your dog becomes more trained, you can let him enjoy the greater freedom of a retractable leash, which generally extends to a length of 16 feet, although you can find longer lengths, as well.
The famous dog whisperer, Cesar Milan, advises that you apply patience and consistent guidance when training your dog to walk on a leash.
Your dog wants nothing more than to please you, and she will follow your lead behaviorally. If you show your dog that you're the leader and continue to reward positive behavior, you and your dog will be happily walking together for many years to come.
Check out the following recommended dog collars and leashes for best results.
Classic leather training collar for large dogs by WintMing
Because this flat collar is made from the finest grade leather, it will stay looking attractive and last longer than other lesser-quality collars. It's hand stitched and handmade, using brass hardware for longevity.
Durable Lighted Nighttime Dog Collar by Masbrill
Technology has provided us with many benefits, like the ability to keep your dog safe in the early morning and after sundown.
You can recharge this collar and have the peace of mind from knowing that your dog is safe and sound. What's even better? This collar not only lights at night, but it's also waterproof.
Stainless Steel Chain Martingale Collar Dog Collar by Max and Neo
Martingale collars are perfect for dogs that have a head smaller than their necks. Breeds like Pit Bulls and Greyhounds are perfect candidates for this kind of collar because this collar will keep them safe.
It tightens around your dog's neck but not so much that it will ever choke your dog. These kinds of collars are suggested by the Humane Society as a better alternative than a choke collar.
The best part? The manufacturers, Max and Neo, donate one dog collar for every collar sold. You'll be improving the life of your best canine buddy while helping another less fortunate dog at the same time.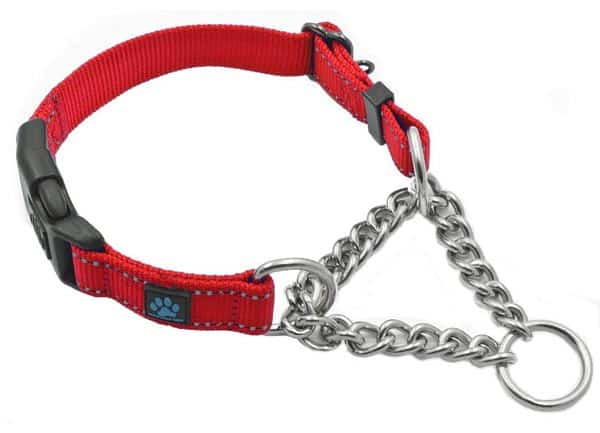 Camo Martindale Dog Collar by County Brook Mountain
With this Martindale dog collar, you'll be keeping your dogs safe while providing them with a splash of unmistakable camo style.
Have your dog wear this dog collar to the dog park, and you — and your dog — will both get plenty of compliments. The camo comes in a wide variety of colors so you can personalize it to your own taste.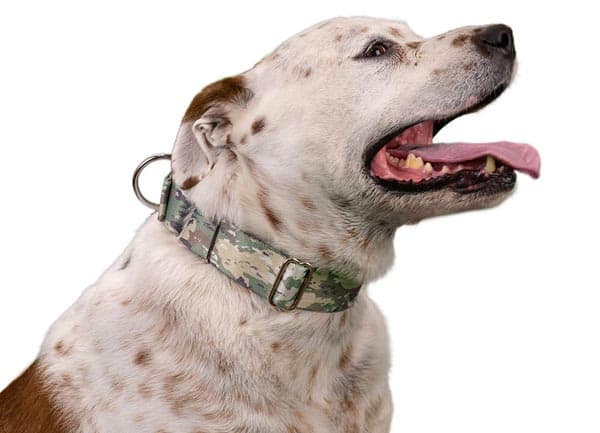 No-Pull Reflective Dog Harness by Barkbay
For dogs that really like to show their energy by pulling you along for a walk, this is a perfect solution. A dog harness works well for several different kinds of dog breeds, like dogs that have a challenging time breathing due to a shortened snout.
Breeds like Bulldogs and Pomeranians, as well as large sized dogs that require a significant amount of energy to control, will do well with this harness.
An added bonus? It's made with reflective material to keep your dog safe at night.
Heavy Duty Leash for Large Dogs by fashion & cool
This is a recommended choice as a standard, non-retractable leash for large dogs up to 150 lbs. It's made of heavyweight material to withstand your larger dog's energy and comes in a 6-foot length to keep excellent control of your dog. An added plus? It's reflective to help with visibility.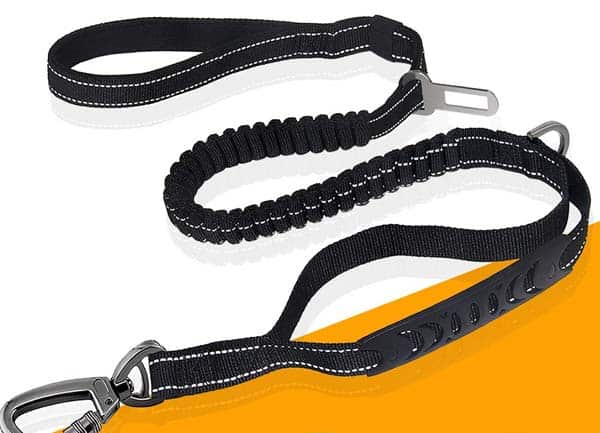 Heavy Duty Retractable Dog Leash by Petdom
This is a heavyweight leash that is safe to use for large dogs up to 110 lbs. To ensure your dog's optimal safety, it comes with reflective tape along the side, is tangle-free and uses a one-hand brake so you can retain control.