Dog KONG toys have long been respected and trusted when it comes to enrichment toys. The number of KONG dog toys might be overwhelming at first, especially if you're a new dog owner – that's where this article comes into play.
One of the most important things that you need to know is that KONG toys for senior dogs and puppies are sized differently and made from different materials than the KONG toys for adult dogs.
In this article, you'll get to see all different types of KONG toys, and we'll help you figure out which KONG toys are the best for your dog's needs.
Choosing KONG Toys
There are several kinds of KONG toys that have a label that details everything that you need to know about that particular toy. This is incredibly useful if you are a new dog owner or aren't familiar with the brand.
So, if you're shopping for KONG toys, take some time to look over the product label to find some interesting information that will tell you everything that you need to know about the toy before you purchase it to see if it's a good match for your Lab.
The KONG labels tend to include the following information:
The toy size: Examples such as S, M, L, XS, XL, XXL
Recommended life stage for the toy: Examples include puppy, senior, or no stage/age of life reference, which usually indicates that the toy is designed for adult dogs
The toy's purpose: Examples such as for treats, for interactive play, for dental care, or teething
KONG and Labs
The creators of KONG have created a sizing chart that can be used to help you pick the right size toy for your Lab puppy, adult, or senior. Below you'll find the recommendations based on the companies own sizing chart particularly developed for Labs.
The size recommendations are below and depend on the type of product that you purchase:
Puppy KONG: Select M or L
Classic KONG: Select L, XL, or XXL
Extreme KONG: Select L, XL, or XXL
Senior KONG: Select L
If your dog isn't much of a chewer, you would probably be best if you got the smaller recommended size for the toy of choice. However, if your dog is an aggressive chewer, you'd best go for the largest size. For an average chew, you should use your judgment when it comes down to choosing the size of the toy.
KONG offers its customers a 30-day satisfaction guarantee for all of their KONG dog toys. It's recommended that you supervise your dog during their playtime until you know their typical chewing style and how well a KONG toy stands up to them.
KONG Chewing Styles
Each KONG toy is rated based on your dog's chewing style. Below you'll find a list of three basic chewing styles that KONG uses:
Gentle
If you've noticed that your Lab tends to lick, suck on or mouth its toys, but doesn't do any noticeable damage to the toy, they are probably a gentle chewer.
You can also tell your dog is a gentle chewer based on if your Lab goes more towards fabric or plush toys that are softer. You'll also know if you notice that you Lab likes to carry these types of toys around without damaging them.
Power
Have you noticed that your Lab likes to go after every new toy that comes their way like there's a challenge that comes with it? Do you uncomfortable leaving your Lab alone with soft items, such as dog toys filled with stuffing or couch cushions? If you answered yes to either of these questions, you probably have a power chewer.
KONG suggests choosing one size larger, or "Extreme" branded KONG toys for power chewers.
Average
Like most large breeds, the majority of Labs fall into the average chewer category. In this category, you might have noticed that your dog occasionally damages a softer toy and can give tougher toys a good workout, but rarely chews one to pieces.
You'll also know because your Lab loves tough and soft toys to play with.
Which Describes your Lab?
Now that we've gone over the basics of choosing a KONG for your dog, let's talk about personalizing the toys to match their individual needs. Below you'll find a list of different ways to describe your dog:
Active – If your Lab is always ready to play, jump, or run and has the most fun when there's more of each of these activities, you'll want to find KONG toys that are made for interactive playtime.
More Sedentary – If your dog is more likely to be found relaxing instead of running, they'll likely love the KONG toys that are comfy, snuggly, and cuddly to hang out with.
Bored Easily – If your Lab tends to get bored easily, it's likely because your dog is intelligent and wants more of a challenge when it comes to their toys. There are plenty of KONG toys that are made to keep your Labs mind and body engaged.
Motivated by Chewing – KONG makes a line of chew toys that are made to take on your dog's need to chew in an approved and safe way. They also make toys that will promote great dental hygiene.
Motivated by Eating – KONG makes a line of treat toys that require your dog to make an effort to get a treat.
Motivated by Squeaking – KONG squeaker toys will give your Lab the thrill of hunting without the messy clean up afterward.
Is Overweight – If you've noticed that your dog has become a bit chunky, a KONG treat will get them up and moving for a low-calorie small food reward.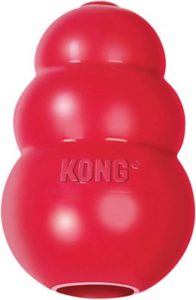 If there is a single KONG toy to buy, the best one to go with is the KONG classic. There's a reason why this toy is called "classic" – it's made from durable rubber that can endure most chewing by dogs. It also meets your Lab's instinctive needs for mental stimulation, to chew, and to play. It's incredibly easy to fill with kibble, treats, or peanut butter, plus it's easy to clean afterward (you can even wash it in a dishwasher!), and this toy is produced in a bunch of different sizes that will fit all stages of your Lab's life.
If you're not sure where, to begin with, KONG toys, the best starting toy is with the KONG classic.
Pros:
Made in the USA
Perfect stuffing treats, kibble, and peanut butter
Relied upon by vets
Provides play, helps reduce boredom and relieves separation anxiety
Unpredictable bounce
Cons:
The sizing chart for this KONG toy can make it so you're ordering a toy that is one size too small, so you might want to consider ordering a size larger than you think you need.

Puppies need to chew! However, puppy teeth aren't as strong as adult teeth – so it's essential that you find a dog chew toy that helps soothe the soreness in their gums. Plus, you can put treats inside the ends of the bone to add a little more entertainment to your Lab's playtime!
KONG's Goodie Bone is a great choice for puppies. It's constructed from softer rubber unlike other KONG chews and helps to ease the pain associated with teething. It can also help fix behavioral issues because it can teach your Lab puppy proper chewing habits – which is essential when trying to raise a happy and healthy dog.
Pros:
Comes in blue or pink – however, the color varies!
An interactive game that will keep your puppy entertained for hours
Made from soft rubber to help soothe sore teething gums
Designed for puppies up to nine months old
Cons:
You don't get to pick the color of the KONG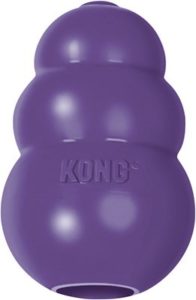 Senior dogs are like puppies and struggle with gum and teeth issues – albeit for a different reason. After chewing on things for an entire lifetime, older dogs require something easy and gentle on the gums – this toy was made for this specific purpose.
The KONG Senior is designed using rubber that fulfills the oldest dogs need for play and chew – without causing pain or damage to their gums or teeth. If your senior dog still loves to chew on toys, then the KONG Senior is a great fit for them. You can even stuff some treats, kibble, or peanut butter and give it to your pet for a more engaging and mentally stimulating toy.
Pros:
You can easily stuff treats inside this toy
Made from soft, all-natural rubber that is designed for senior dogs
Made in the USA
Erratic bouncing re-establishes play and exercise in senior dogs
Help reduce boredom and relieves separation anxiety
Cons:
The sizes tend to be a bit smaller than expected, so order a size larger than you think you need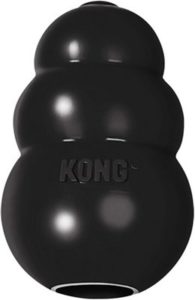 KONGs are known to be durable toys, but if you have a power chewer dog, you need a toy that can handle extreme punishment.
The KONG Extreme was designed for power chewers and is made from some of the most durable and strongest rubber. No matter how fast your dog chews through other toys, the KONG Extreme will keep your Lab occupied for hours.
If you want to add a little extra challenge to this KONG toy, stuff it with peanut butter and then stick it in the freezer for at least four hours before giving it to your dog.
Pros:
Provides puzzle-solving play
Made in the USA
Perfect for stuffing with treats
Relied upon by vets
Unpredictable bounce for unlimited games of fetch
Cons:
Some buyers found that their power chewing dogs were able to rip off pieces of the rubber – this is, however, very rare.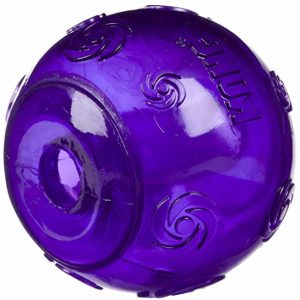 Does your dog love to chase, fetch, and run? If so, then the KONG Squeeze Ball dog toy is a great option for them. These balls don't just bounce very easily, but on the inside, there is a hidden squeaker, which adds an extra layer of fun whenever your dog picks up the ball to bring back to you.
Pros:
Made from 100 percent thermo-plastic rubber
Durable
The ball bounces irregularly for an extra fun element
Ideal for fetch
Cons:
The color is random
You must watch your dog because it can chew this ball up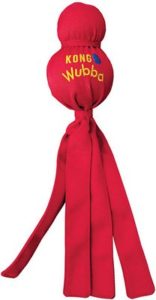 Does your dog love a game of tug of war? If yes, then the KONG Wubba is the toy for them. This toy features long, floppy tails that encourage your dog to tug, which makes this toy great for tug of war. KONG Wubbas also has a squeaker, which adds extra entertainment to this dog toy, and it encourages your Lab to play with this toy even when you're gone.
Pros:
Fun, interactive tug and toss toy
Made with durable, ballistic nylon for added toughness
Easy to pick up, throw, or tug
Reinforced fabric and stitching make this a long-lasting toy
Available in three colors
Cons:
Color is random
Can be easy for power chewers to break
The list above features some of the best KONG toys for your Lab, but if none of the ones listed above don't seem right, don't give up. KONG makes plenty of toys options that are all designed with the same high-quality material to their rubber line.
Remember to look at the labels on KONG products to see what chewing style, size, and playing type the KONG toy features and then base that off of what you know about your dog – for instance, getting the KONG classic for average adult chewers can be motivated by food.