Labrador retrievers are dogs initially bred to be used as a working dog breed but also have a friendly and loving companion.
They used to help fishermen by hauling the nets, fetching ropes, and even grabbing fish from the water. The Labrador today is still just as good-natured as it once was and is a popular dog breed for many.
Labradors are still used as hunting companions but are often employed as an assistant for the handicapped, show competitors, and rescue jobs.
Labrador Retriever Breed Characteristics
When it comes to Labrador Retrievers, they score higher in some areas than others. We have a few of their most common traits listed below to give you a better idea about where they rank for each:
Adaptability
They have very high sensitivity levels and are extremely caring and friendly dogs. However, this also means that they can't always tolerate being alone. They are companion dogs, after all.
They may not adapt well to apartment living because they are used to having room to run around and be active. But they are good pets for novice owners and are very tolerant of cold and hot weather.
Friendliness and Trainability
Labradors score high in this category. They are affectionate with their family, friendly with kids and other dogs, and even get along with strangers. For all these reasons and more, you will find that they are very easy to train.
They are highly intelligent dogs who can get mouthy when they aren't happy and may bark and growl sometimes, but their high friendliness rating surpasses this.
Exercise and Activity Level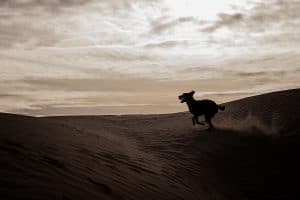 Labradors have an extremely high energy level and are always in the mood to play. Since it is also easy for them to gain weight with the wrong diet, exercise is essential to keep them active and at a healthy weight.
Health and Grooming
When it comes to their health and grooming, there are a few things you need to watch for if you have a Labrador. They tend to shed a lot but are relatively easy to groom for their larger size.
Their general health appears to be more on the average side, and they have a high potential for weight gain if they are not given an appropriate diet and dog food.
Potential Health Risks for Labrador Retrievers
The following are just a few potential health risks you should be aware of when it comes to your Labrador. They are usually pretty healthy animals. However, that doesn't mean they aren't still prone to experiencing certain health conditions during their lifetime.
Obesity
Labradors love to eat – this is a fact. Because of their intense love of food, it is very easy for them to become overweight very quickly.
For this reason, they need plenty of exercise, and their meals must be measured and scheduled. Their food bowls shouldn't be left full throughout the day because they will continue eating.
Their hefty appetite doesn't end with just food either. They are eager to get anything in their mouths, which means inedible items. They will go through the garbage, grab items off the counters, and even chew up shoes and toys to fill their tummy.
So, it is essential to keep these smaller, inedible items out of reach and remain consistent with their feeding schedule to help avoid overeating and chewing other items that could potentially cause them harm.
Hip Dysplasia
This is a heritable condition when the thighbone doesn't fit correctly into the hip joint. While some dogs may display signs of pain and discomfort, in some cases, no symptoms will be noticeable in a dog with hip dysplasia.
However, as the dog continues to age, arthritis may develop. This condition is more common in larger dog breeds and can worsen if the Labrador is overweight.
Ear Infections
Labradors have long and floppy ears, and these larger ears can cover up their ear canal and can trap the warm and moist air.
For this reason, it is very important to regularly clean out your Labrador's ears by gently scrubbing the inside of their ear flaps without going too deep into the ear canal.
If there is any kind of foul odor or you notice any buildup in one or both ears, there may be an infection that warrants a visit to the veterinarian's office.
Nutritional Requirements
Based on everything we have told you about Labrador Retrievers thus far, you can see that they are highly active dogs that love to eat food and nonfood items while also risking weight gain and other health problems due to the extra pounds.
So, when discussing the nutritional requirements of a Lab, we need to keep in mind their optimum health and wellness as well as the prevention of the various health issues that may arise in this particular dog breed.
Protein
Of course, Labrador Retrievers need their fair share of protein. High protein dog food is recommended because it aids in the development and maintenance of their muscle tissues.
Labs don't have as many muscles as other breeds, so it is essential to ensure their diet includes what they need to develop strong muscles.
Proteins also help form hormones and other cells essential to the Labrador. The coat and skin of this dog breed are made of structural proteins; if these don't exist, they could suffer from infections.
Cells in the immune system also depend on proteins as well. Labradors cannot synthesize antibodies to ward off infection without protein.
When choosing proteins for your dog, you need to ensure that they are sourced from animals rather than plants to ensure all the essential amino acids are there.
While plant protein sources contain trace amounts of amino acids, it isn't enough to support the health of your Labrador. The primary source of protein for your dog should come from other animals.
Glucosamine and Chondroitin
As we previously discussed, Labs are at risk of developing health conditions in their life related to joint problems like hip dysplasia.
For this reason, they need foods that include glucosamine and chondroitin. They promote the production of chondrocytes and other cells that cartilage is composed of in adjoining bones.
DHA and Taurine
Eye problems are another common health condition many Labradors will face in their lifetime, and because of this, they need foods that are rich in DHA and taurine. These two substances are especially helpful for healthy eye development in Labrador puppies.
Calcium
Glucosamine is meant to help with joint functions, while calcium helps strengthen the bones. Not only does calcium help strengthen the dog's bones, but it also helps keep the structural integrity of their bones intact.
Probiotics
Probiotics are not nutrients; rather, they are microorganisms that live in the GI tract to help offset the growth of bacteria. 70% of your dog's immune system cells can be found in their gut, so their diet needs to help maintain a healthy balance of bacteria in their stomach which will also help strengthen and improve their immune system.
Best Diets for a Labrador Retriever
Now that we know what is essential in our Lab's diet, we can take a closer look at the type of diet we can offer our loveable friends.
A moderate to a high-fat diet. Since they are energetic and active dogs, they can benefit from this kind of diet – as long as they get the exercise they need. If your dog lives a more sedentary life, then this kind of diet should be avoided because they won't be able to work it off, and it will cause them to gain weight.
A low to moderate calorie diet. High-calorie diets are suitable for dogs that are physically active daily. If the carbs they consume are not used as a needed energy source for their activities, their blood sugar levels can become too high, and they may become at risk of developing canine diabetes. Again, a low to moderate calorie diet is best suited for Labradors who cannot get the most physical stimulation and exercise.
Low-fat diet. Due to the excess unused energy Labradors may have, giving them a low-fat diet is best. If they cannot burn off the calories, they can quickly gain weight and become obese. However, fat should not be eliminated from their diet because it is essential for producing certain hormones.
Labrador Feeding Schedule
So, how often should you feed your Labrador Retriever to ensure they remain physically healthy? The frequency of their feedings largely depends on their developmental stage. For example, puppies under a year old usually only require their mother's milk.
However, by the time they reach six months old, they may need to be fed puppy food once in the morning and once at night. These are just general guidelines to follow. Discussing your dog's diet and feeding schedule with your veterinarian is always best to ensure your pup stays on track.
How Much to Feed Your Dog
Once you have determined the appropriate number of calories, proteins, and fats, you can begin to decide how much they need to be eating – again, with some guidance from your vet.
Another factor besides age to consider when determining how much to feed your dog is the kind of food you will be feeding them. Canned dog food and wet food, for example, has far fewer nutrients than dry food.
Puppies that weigh between 15 to 18 pounds often require 2 ounces per meal, at least four times a day. The amounts begin to increase, and the number of feedings per day decreases as the Labrador ages. So, while a puppy feeds four times a day, an adult Labrador weighing over 80 pounds only requires up to 2.75 cups per meal, two times per day.
If your veterinarian has your Labrador on a weight reduction diet, you must remember that these amounts may be reduced even more.
The following are some of the best dog foods you can feed your Labrador Retriever to ensure they follow a healthy diet. Remember, a healthy diet doesn't stop with food. You also need to ensure they are getting the exercise they need daily to ensure long-term health and happiness.
Our Best Dog Food Picks for Adult Labrador Retrievers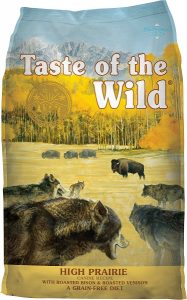 This dog food comes highly recommended for Labradors because it is high in protein to promote lean and strong muscles. This food contains a variety of proteins, including roasted bison and roasted venison. Real meat is the number one ingredient and is nutrient-rich and highly digestible. It also contains proprietary probiotics to maintain good gut health.
Key Benefits
Grain-free recipe with only protein-rich ingredients
Added vitamins and powerful antioxidants with omega-3 and omega-6 fatty acids
Ingredients are sourced from trusted and sustainable sources
Highly digestible while also supporting gut health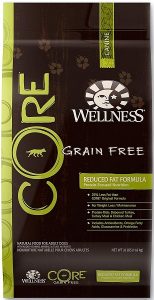 If your Labrador is not getting enough exercise or is predisposed to canine obesity, this reduced fat dry dog food is something to try. It contains a minimum of 10% fat but can still provide your dog with the calories they need daily. It is also rich in fiber and comes with nutrients to help with the healthy development of your Labrador's joints, digestive system, and immune system.
Key Benefits
The first ingredients are turkey, potatoes, chicken, and peas.
Packed full of wholesome fruits and vegetables as well as salmon oil
It contains fatty acids, glucosamine, and chondroitin
The taurine in this food supports a healthy heart
Reduced fat food to help overweight dogs shed excess pounds
Grain-free and protein-rich dog food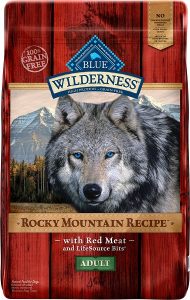 This dog food is a high protein, grain-free food that provides your Labrador with the right mix of the vitamins and minerals they need to flourish. Each bite your dog takes is full of the protein, vegetables, and fruits they need for healthy growth and development. It is free from by-products and other potentially harmful additives.
Key Benefits
This dog food is rich in antioxidants that are ideal for those with sensitive stomachs.
Provides the right amount of complex carbohydrates for a healthy diet
L-carnitine to help burn fat
Glucosamine supports healthy joint functions and mobility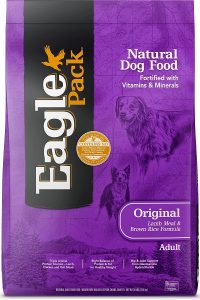 This dry dog food contains the appropriate combination of proteins, fats, and carbohydrates that your Labrador needs for optimal health. It contains omega fatty acids and glucosamine, allowing your dog to have a healthy and balanced diet while meeting all its nutritional needs.
Key Benefits
The lamb is highly digestible and promotes lean muscle mass
Antioxidants support healthy immune systems
This formula's oatmeal and brown rice are fiber-rich and promote healthy digestion.
Specifically formulated to meet the nutritional needs of your adult dog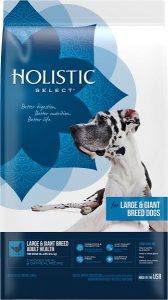 This dog food has been formulated to help the digestive system and includes active probiotics, healthy fiber, and digestive enzymes your Labrador needs. It is a food designed to target the health of your dog's digestive and immune systems while also including a high-quality protein that allows for healthy growth and development.
Key Benefits
Includes taurine to support a healthy heart
It contains pumpkin and papaya for a healthy digestive system
It contains protease that can help break down proteins
It contains live and naturally occurring microorganisms to promote healthy digestion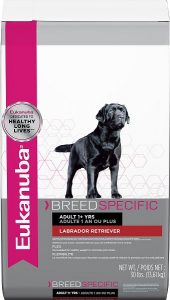 This food is breed specific and contains a Labrador Retriever formula your dog will love. It has undergone multiple tests proving that it is among the best dog food you can get for your furry friend. It is made with only high-quality proteins and its unique 3D DentaDefense System. However, one thing to watch for is the inclusion of beet pup, which may or may not be dangerous as some manufacturers claim.
Key Benefits
Uses high-quality animal-based proteins to build strong and lean muscles
Has been formulated to encourage healthy joints
L-carnitine and natural taurine help support a healthy heart
Our Best Dog Food Picks for Labrador Puppies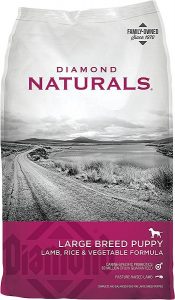 This food is specially formulated for your Labrador puppy and is designed to start them off on the right track regarding a healthy diet. This food contains superfood enhancements that are important to their development. It is made with natural lamb protein and contains vital omega-fatty acids that promote a healthy coat and skin.
Key Benefits
It is a natural recipe that includes real fruits, vegetables, and protein
Nutrient-rich food that is easily digestible
It contains a probiotic blend to help with digestive health
It supports lean nutrition and strong muscles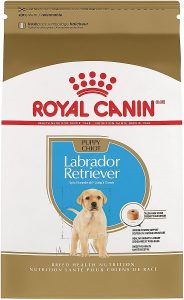 This food is specifically designed to meet the nutritional requirements of your Labrador puppy and encourages healthy growth and development. It is suitable for puppies from 8 weeks old to 15 months. It provides them with the appropriate amounts of protein, calcium, and phosphorous to encourage a healthy weight as they develop into young adult dogs.
Key Benefits
Specifically designed to meet the nutritional needs of Labrador puppies
It supports a healthy digestive system
Includes Vitamins E and C as well as lutein and taurine
The shape of the kibble helps slow down indigestion and gets the puppy to chew his food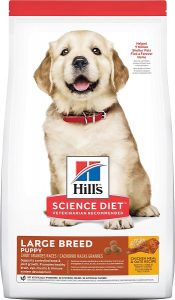 Once again, this food hits the mark when meeting the nutritional requirements of a Labrador Retriever puppy. It is made with chicken meal and oats and supports bone growth. It is formulated for puppies up to one year of age who will reach over 55 pounds by the time they are adults.
Key Benefits
It contains a controlled amount of calcium for bone growth
Includes glucosamine and chondroitin for strong muscles and joint health
Includes antioxidants to support a healthy immune system
Lamb meal is the top ingredient
This food contains the right levels of calcium and phosphorus needed for your puppy to build strong bones. It also contains DHA-rich salmon for healthy brain development. It is made with bone-free chicken and other all-natural ingredients that do not include wheat, soy, corn, meat by-products, artificial colors, or preservatives. The omega-fatty acids promote a healthy coat and skin. This food is appropriate for your puppy's first year of life.
Key Benefits
Contains appropriate amounts of DHA and Vitamins E and A
It contains 3% calcium and has spinach and carrots
Includes taurine to support a healthy heart
It contains Yucca Schidigera extract, which helps reduce the odor in the puppy's stool.
Final Thoughts
These ten selections for the best dog food for Labrador Retrievers provide you with several choices for your adult and puppy.
From high protein to foods packed with the nutrients and vitamins they need to support proper digestion, muscle strength, and bone growth to lower fat options to help with excessive weight gain, you are sure to find the formula your Labrador needs and can benefit from the most.
As always, it is highly recommended that you consult your dog's veterinarian before switching your dog's diet.
They can help guide you on the best foods for your dog, so they are sure to get all the nutrition they need from their food.
They can also help determine your dog's healthy weight and advise you on how much to feed them and when to feed them.