Every dog owner wants their canine companion to be happy and healthy, which is why skin allergy issues can be concerning for pet owners.
Many dogs develop dermatologic problems, often caused by ingredients in foods. These issues are considered adverse reactions and can occur when proteins in your dog's diet cause irritation.
Dermatologic food reactions can lead to itchiness and scratching, often the result of a sensitive immune system.
There are many ingredients in standard dog foods that can occasionally cause problems and irritation. Even the most common ingredients and components can end up becoming an irritant for your dog, which is why it's important to look out for signs and symptoms that something may be wrong.
This article from PetMd explains exactly what skin allergies are, and why they may be caused. You may also want to watch this informational video discussing hypoallergenic dog foods, and why they may be effective.
Symptoms of Food Reactions in Dogs
Itchiness unrelated to weather or seasons
Vomiting
Diarrhea
Skin inflammation
Pustules and skin plaques
Redness and discoloration of the skin
Scaly flakes
Your dog may have some or all of these symptoms, depending on the cause and severity. It's important to be sure that food is the cause of the symptoms, instead of other factors, such as seasonal changes or weather.
Keeping an eye on your dog's symptoms and keeping track can help, and you may want to seek a veterinarian's help.
Consulting a veterinarian is almost always a good idea, especially if you have concerns that your dog may be experiencing skin allergies. Your veterinarian will be able to evaluate and examine your dog.
A dermatological examination should be able to determine the cause of your dog's skin problems. Blood and urine testing may be administered to rule out other potential causes.
Your veterinarian may recommend trying to eliminate specific foods from your dog's diet to help figure out what is causing the problem.
Determining the source of the irritation may take time and may require testing, but that doesn't mean there aren't any simpler ways to soothe your dog's symptoms.
Fortunately, there is one simple option that may help alleviate your dog's skin problems.
Your veterinarian may also recommend trying a dog food specifically for dogs with skin allergies or skin problems. These foods are made with safe ingredients formulated to prevent skin irritation and help avoid negative reactions to food.
Here are some of the most highly used and veterinarian-approved dog foods intended for canines with skin allergies or irritation.
Hill's Prescription Diet Z/D Canine Small Bites Dog Food 7 Lb (3.17 Kg) Bag, Small
This food by Hill's Prescription Diet is intended to promote skin improvement in 30 days, and can also help support your dog's immune and digestive systems.
Hydrolyzed animal protein and purified carbohydrates are great for preventing skin irritation, and the high levels of vitamin E are also beneficial.
The food does not contain gluten, soy protein, preservatives, or artificial colors/flavors. It also contains clinically tested antioxidants.
Overall, it lacks the possible irritants that are used in many popular dog foods, which may make it a good option.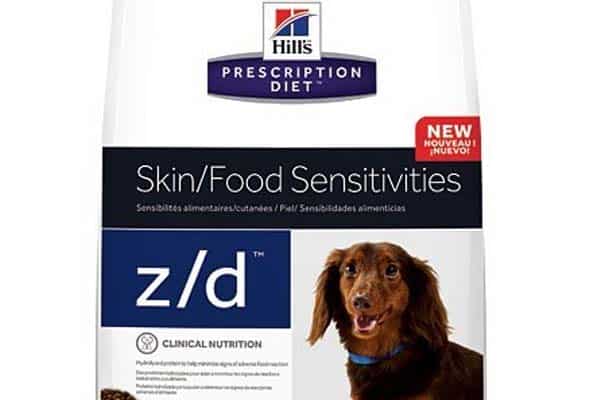 AvoDerm Natural Dog Food for Adults
This AvoDerm dog food is made with highly nutritious California avocados, which can be beneficial for your dog's skin.
It may also help promote a healthy coat. The food is made with high amounts of protein – specifically, meat-based protein. The vitamins, minerals, and antioxidants included in the food can also be an immune system boost.
This food is also wheat-free, soy-free, and corn-free. No artificial flavors or preservatives are used, which is another beneficial quality of this food. Because of these factors, this AvoDerm food is potentially a good choice.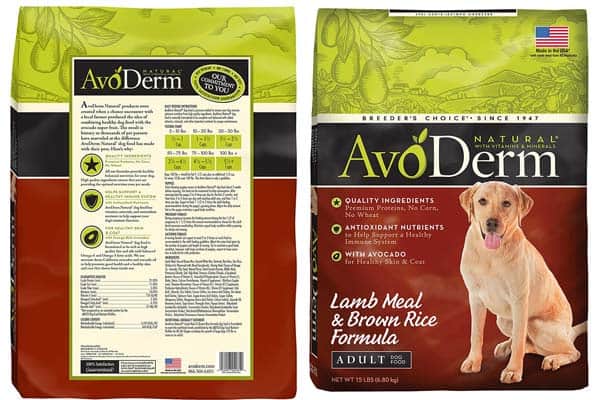 Nature'S Recipe Healthy Skin Dry Dog Food
This Nature's Recipe dog food is a great source of protein, which can help make your dog's skin healthy and strong. It contains no wheat, artificial flavoring or colors, but it does include fatty acids for a healthy coat and skin.
This food is mostly made with soybean, which is typically a good ingredient for preventing skin issues. This food may be able to ease your dog's skin symptoms.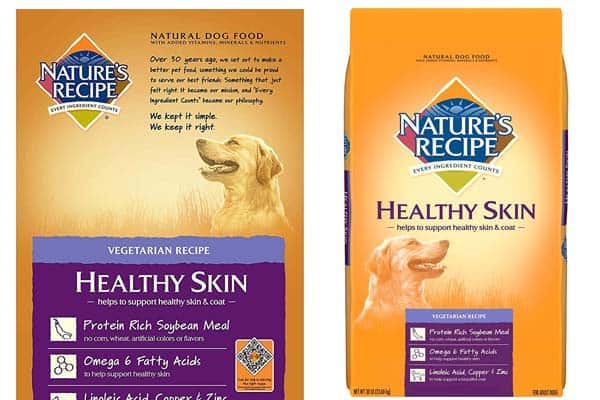 Natural Balance Limited Ingredient Dry Dog Food – Potato & Duck Formula
This Natural Balance dog food is made with a limited amount of ingredients, which is perfect for attempting to eliminate harmful irritants from your dog's diet. It's grain-free and contains smaller pieces of kibble, which makes it suitable for small dogs.
Like other dog foods for skin sensitivities, it contains no artificial preservatives, colors, or flavoring. These qualities make it a potentially beneficial option for dogs with skin sensitivities.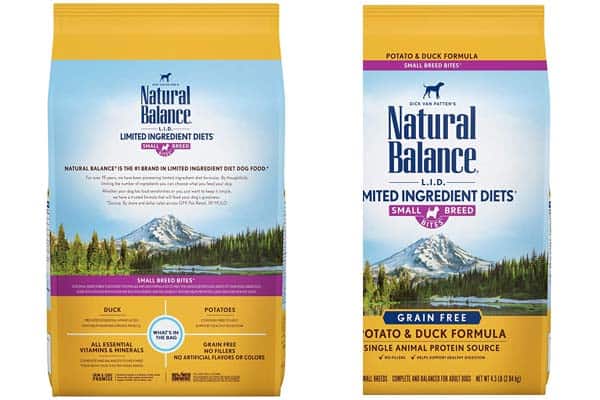 NUTRO Limited Ingredient Diet Adult Dry Dog Food
This NUTRO dog food is another food made with less than 10 key ingredients, which makes it ideal for eliminating skin irritants. Natural flavoring, vitamins, and minerals are all included in the formula of this food.
It's grain-free and doesn't contain ingredients that often cause food sensitivities, such as corn, soy, wheat, and dairy protein. Instead, it is primarily made with lamb and other non-GMO ingredients.
Overall, these components of the food are likely appropriate for most dogs with skin allergies or irritation.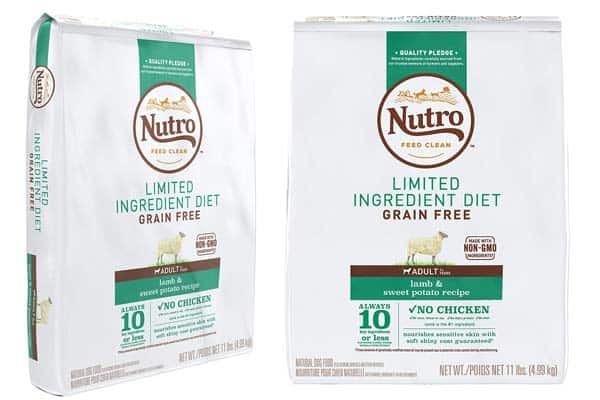 These dog foods are some options that may help ease your dog's skin irritation. Although there is no direct "cure" for skin allergies and problems, you can try to eliminate potentially harmful components in your dog's diet.
That's why trying a dog food specialized for canines with skin issues may be a good choice.
Of course, it's always best to consult a veterinarian, especially if you have any major concerns. However, your vet may recommend giving one of these foods a try in order to help solve the problem.
These dog foods may be able to ease your dog's symptoms, resulting in healthier, stronger skin.