Dogs need their health maintained just as much as humans do. Their dental health is very much included since it can affect the health in the rest of their body. Bad oral health can potentially become serious to a point that dental disorders like gingivitis and periodontitis occur.
Disorders such as these can be relieved by a professional, but until that happens, your dog might experience serious tooth pain and discomfort. The worst thing that you can go through as a pet owner is to see your dog in pain. Dogs may not live as long as us, but they deserve to have that life full of happiness.
The major step in improving and maintaining your dog's oral hygiene is to buy a sufficient toothbrush and toothpaste that are both dog-friendly. The next step is to learn how to use them properly.
How to Use Toothpaste for Dogs
Brushing your dog's teeth is a simple process to follow. The basic steps you should take are listed and explained below. Some of these steps may vary if your dog is a senior or if they dislike getting their teeth brushed.
Don't overthink it too much; as long as you brush as many teeth as you can reach in your pet's mouth, and you use a toothpaste that is safe for dogs, you should be alright.
Words of Advice
Do not force your pet's mouth open; they will respond better to a gentle touch
If you have problems or are unable to adequately clean your dog's teeth, consult a veterinarian for help
Never use human toothpaste on your dog
Only use a small amount of toothpaste in case your dog tries to swallow. Most toothpastes are safe for swallowing, but nothing is good in excess
Steps to Brush Your Dog's Teeth
Find a toothbrush and toothpaste that is safe for your pet and is vet approved
Clean the toothbrush before the first use using only warm water
Bring your dog into a bathroom or in an area that will be easy to contain them for teeth brushing. Ask a friend for help if you need it
Squeeze a small amount of toothpaste onto the brush. A pea-sized amount will do
Gently scrub your dog's teeth with the brush in small circles all along the gumline, back molars, and the front, back, and top of each tooth
Rinse the brush and lightly run it along the dog's teeth to remove any extra toothpaste left over. (This step only applies to kinds of toothpaste that require rinsing)
Give your pup a treat! Tasty rewards will help your dog enjoy teeth brushing time(Of course, give them a treat that won't ruin your good work – dental treats are a good idea)
Best Dog Toothpaste Kits
Dental care kits for dogs are the easiest to buy since you won't have to buy each item separately. Most kits include a dog-friendly toothbrush, a fingertip toothbrush, and a tube of dog toothpaste.
Some dog owners prefer to buy the toothbrush and toothpaste separately because of their personal preferences for certain pet brands; what the owner likes may differ between the toothbrush and the toothpaste. If that is you, buy what you need, but you should know that a kit will save you a tremendous amount of money and time.
Here are a few of the best dog toothpaste kits, all available online.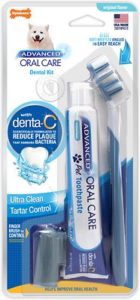 Toothpaste ingredients
Sorbitol, Water, Silica, Glycerin, Cellulose Gum, Sodium Ascorbyl Phosphate…
(View the complete list of ingredients at Chewy.com)
Items Included:
Peanut butter flavored toothpaste
Angled dog toothbrush
Fingertip dog toothbrush
Arm & Hammer has multiple options for dog toothpaste/toothbrush kits. This is the Fresh Breath Dental Kit, which is the most basic option. Their other choices include the Fresh Breath Enzymatic (for antibacterial action and reduced mouth odor), Tartar Control, Clinical Gum Health, and Clinical Gum Health Enzymatic toothpaste.
Toothpaste Ingredients
Sorbitol, Water, Hydrated Silica, Polysorbate 20, Cellulose Gum…
(Complete list of ingredients at chewy.com)
Items Included:
Double-ended angled tip toothbrush for dogs
One fingertip dog toothbrush
5oz tube of Arm & Hammer fresh breath toothpaste for dogs – Vanilla Ginger Flavor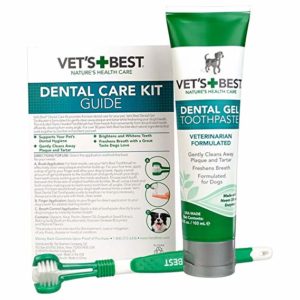 Toothpaste made by Vet's Best is one of the top brands of toothpaste for dogs. It is veterinarian-approved and contains all-natural ingredients that are safe and healthy for all dogs. This dental care kit is extra special because it comes with a triple-headed dog toothbrush, rather than a double-headed or an angled toothbrush.
Triple-headed toothbrushes are easier to use because it takes less effort to reach them to problem areas in a dog's mouth. This kit is the best all-around, and it is affordable.
All-Natural Toothpaste Ingredients
Grapefruit seed extract, neem oil, enzymes, baking soda, aloe, natural flavors…
(View the complete list of ingredients at amazon.com)
Items Included
Vet's Best Dental Gel Toothpaste – 3.5oz tube
Triple-headed toothbrush for dogs
Dental care kit guide
Best Organic Dog Toothpaste
Organic toothpaste for dogs is a wonderful option if you are worried about the unnatural ingredients that are in some kinds of toothpaste. Most dog toothpaste brands are safe and effective, but others seem risky when you are browsing your options.
Organic types of toothpaste are usually created by family-owned companies who have a passion for dogs that drives their business. These local companies end up making pet products that contain all-natural ingredients. These brands of toothpaste pride themselves in being 100% chemical-free and cruelty-free.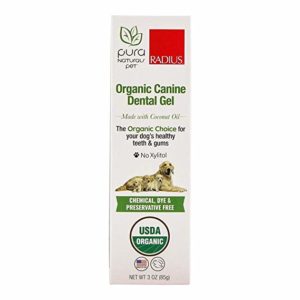 This organic pet toothpaste by Pura Naturals is completely all-natural and contains none of the following ingredients:
Dyes
Chemicals or preservatives
Pesticides or GMOs
Fluoride
Saccharin
Artificial additives, sweeteners, or flavors
Latex
SLS or SLES
BPA or BPS
Information
Made with tea tree oil
Contains all-natural flavors like vanilla, cucumber, and mint
Made in the USA
No rinsing necessary
Safe to swallow
Best Dog Toothpaste
Buying dog toothpaste is the first step you can take towards improving your pet's dental health. Since dogs and other animals can't brush their teeth on their own, it is up to you to help them. It is also your job to get the best dog toothpaste you can find. Look for a toothpaste that has all-natural flavors and plaque-fighting ingredients listed on the label.
Two of the best brands of dog toothpaste you should consider are Petsmile Professional and Enzadent. They both come highly recommended by vets and dog owners and have at least 4 out of 5-star customer ratings on Amazon.
This toothpaste for dogs is approved by the VOHC, otherwise known as the Veterinary Oral Health Council. The VOHC reviews pet dental products and work with the FDA to warn pet owners of problems that are associated with certain products like toothpaste or dental treats.
Reviews are based on the results of clinical trials that are submitted directly from the product manufacturer. Petsmile dog toothpaste is one of the products that made it through this process with flying colors. It is also recommended by the American Kennel Club as one of the best types of dog toothpaste.
Ingredients
Deionized water, glycerin, citric acid, dicalcium phosphate dihydrate, Calprox…
(Visit amazon.com for the complete list of ingredients)
Information
This exact toothpaste by Petsmile is their rotisserie chicken flavor. There is also a Savory Duck flavor that your dog might love more; but if your dog doesn't like either one, they also carry a natural flavor that might be more pleasant.
Unlike other dog toothpaste, this toothpaste doesn't require you to brush it on your dog's teeth with a toothbrush. It might sound strange, but it is very effective. All it requires you to do is apply the paste directly onto the teeth with one of their toothpaste applicator swabs (essentially just a long Q-tip). Some other brands of dog toothpaste use this method as well. It saves you a lot of time since you don't have to brush.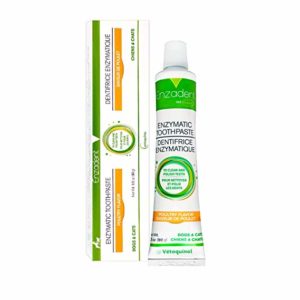 Ingredients
Sorbitol, glycerin, silica, calcium pyrophosphate, calcium carbonate, poultry extract…
(Complete list of ingredients given on amazon.com)
Information
Enzadent toothpaste is the best enzymatic toothpaste for dogs. Enzymatic toothpaste is similar to your average dog toothpaste, with the exception that it has an added ingredient of glucose oxidase, which is a type of enzyme. This enzyme has antibacterial properties that you won't find in other pet toothpaste.
You should use an enzymatic toothpaste-like Enzadent on your dog's teeth if they are dealing with a dental condition or if they have a poor history of oral hygiene. It is safe to swallow; brush on the toothpaste normally with a pet toothbrush, like an angled toothbrush for dogs, and then let it sit in their mouth so that the enzymes and other plaque-fighting ingredients can do their job.
Whether you are using an enzymatic toothpaste or a standard dog toothpaste, keep up with your dog's oral hygiene by brushing their teeth daily and occasionally giving them dental treats.
Other Types of Dog Toothpaste
Senior dogs, puppies, and dogs who have special medical conditions may not be allowed to use standard dog toothpaste. This could be for several reasons, but it's likely that they either can't digest it properly or they are unable to open their mouth wide enough for brushing. No matter what the problem is, it's likely that someone has already come up with a solution for you.
Before you make your final decision on a dog toothpaste, ask your veterinarian if your dog will do okay on that product, especially if they are a senior or if they have a unique physical medical condition.
Best Toothpaste for Senior Dog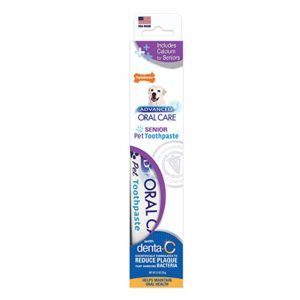 About
Nylabone Senior Dog Toothpaste contains Denta-C and added calcium for safe and beneficial dental care on your senior dog. This toothpaste does not require you to rinse your dog's mouth out after, but you should only use it in small amounts, especially if your senior dog has trouble swallowing. This is a great product to use if your senior dog has dental problems due to a history of poor dental hygiene throughout their lifetime; it protects from periodontal disease.
Ingredients
Dicalcium phosphate dihydrate, vegetable glycerin, sorbitol, purified water, calcium carbonate…
(Full list of ingredients available on amazon.com)
About
This Pura Naturals Dental Kit comes with a small tube of senior dog toothpaste as well as a dog toothbrush. Normal dog toothbrushes have hard bristles on them that can tear up the sensitive gums that some senior dogs have, so this brush is designed to provide a gentle brushing experience.
The Pura Naturals toothpaste in this kit is safe for senior dogs and is USDA approved and completely organic. It contains all-natural ingredients like coconut oil, olive leaf extract, fennel extract, sweet potato, cinnamon powder, kelp extract, and thyme leaf oil.
Main Ingredients
Water, USDA certified organic glycerin, sweet potato powder, Cyamopsis tetragoioba guar gum…
(Complete ingredient list can be found on amazon.com)
A Healthy Dog is a Happy Dog
Just like humans, dogs are happier when they are healthy. When you are healthy, you generally feel better, and it's easier to enjoy your life without being held back. Dogs don't have much in life to be happy about, so it's our job as their companion to help them enjoy the few things that they do have, like eating treats, playing outside, and making new friends.
Do everything you can to make those things happen. Less time is given to these fun experiences if all of your pet's time is spent at the vet because of reoccurring health problems.