When it comes to large and senior dogs, it is essential to recognize the fact that their snacks are entirely different than that of smaller dogs. Lucky for you, we have created a list of senior dog treats that will make your pet feel loved.
Before we proceed with our top dog treats for senior dogs, let us discuss why dog snacks are essential in the first place. With that in mind, allow us to present to you the different dog treats you need to choose from.
Will your dog love the stinky yet soft dog snacks?
The beauty with these stinky yet soft dog snacks is that they are perfect for training. According to the American Kennel Club, these are much more effective as training treats as compared to that of crunchy ones.
Why? Because having your dog find every crumble on the floor is time away from training. Biscuits go well with one-off treatments; however, soft treats are perfect while they are on their training.
Another thing you should keep note of is that these soft treats usually are stinky and smelly. The truth is that every type of senior dog has what they call a hierarchy of rewards. You'll be surprised to know that the smelliest treat is located on top of this hierarchy.
What are slow-eating treats or chewy dog snacks?
If there are dog snacks that function as training treats, there are also dog snacks that operate as a dental health promoter.
These slow-eating dog treats are also known as a long-lasting treat because they are super chewable. In fact, you can leave your house and come back to your dog still chewing this treat.
Nevertheless, these kinds of treats also present another form of advantage – dental health. For senior dogs that are heavy chewers, this is the perfect treat to satisfy their cravings and their ability to chew on things.
Furthermore, by letting your dog indulge in these kinds of treats, you also eliminate the possibility that your dog might chew on other items in your house.
Is it a good idea to change up the treat given to your senior dog?
The answer to this question is "yes." Some dogs prefer soft treats to crunchy ones. There are those that prefer crunchy treats to soft ones.
Either way, switching up the treats given to your dog is an excellent idea as they may want a variety. Similar to humans, dogs can also get bored if you keep giving them the same kind of snack.
If you are a dog owner who is keen to use treats for training, notice how your dog responds to their treats. Their enthusiasm will slowly decrease over time because they are used to the kind of reward you are giving them.
If this is the case, try changing your usual dog treat to something that is of equal value.
What are some of the best-rated dog treats for senior dogs?
1. Old Mother Hubbard Crunchy Classic Natural Dog Treats
When it comes to senior or aging dogs, Pets Web MD claims that treats given to them should be low in sodium and fat.
These treats are not only low in sodium and fat; it is also made with 100% natural, wholesome ingredients. Furthermore, these are crafted with delicious home-style recipes that your dog will surely love.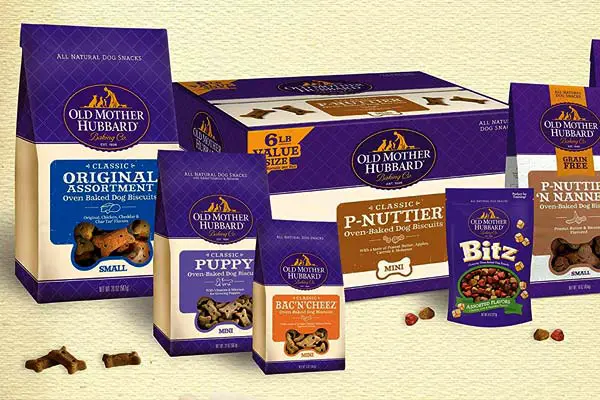 Why we like them:
This treat is easy to chew, catch, and eat by your senior dogs.
This treat features ingredients that aids in your dog's immune system.
This treat is free from any type of artificial preservatives.
What we don't like about them:
Even though this treat is made from high-quality fruits and vegetables, the options for flavors are limited.
2. Smart Bones Peanut Butter Dog Treat
Senior dogs need treats that can accompany them well as they age. Dogs that are already in their golden years must receive a treat that is full of all the nutrients they need.
With the Smart Bones Peanut Butter Dog Treat, you can allow your dog to enjoy an easy-to-digest snack that is rawhide-free.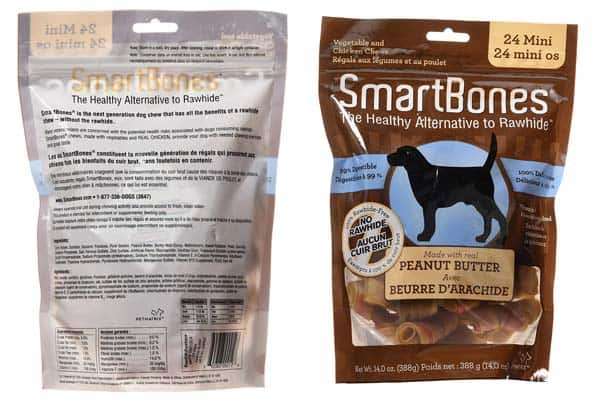 Why we like them:
This treat is filled will minerals and vitamins for your senior dog.
This treat provides an excellent way to maintain your dog's teeth and chewing habits.
What we don't like about them:
Users have commented on how this treat can be too chewy for some senior dogs.
3. Zuke's Z-Bone Dental Chew Dog Treats
According to Vet Street, one of the many ways to maintain your dog's dental health is through chewable dog treats. Of course, your primary goal should be to brush your dog's teeth regularly to ensure that your dog is getting a healthy set of teeth and gums.
Here's a video by Howdini on how to properly brush your dog's teeth.
Lucky for you, the Zuke's Z-Bone Dental Chew Dog Treats cannot only promote a healthy set of teeth and gums but is also a great option to fight your dog's bad breath.
Also, the texture of this treat is made with Earth's best natural ingredients that are specifically tasked to clean your senior dog's teeth. Indeed, this treat can be a great way to keep your dog active throughout their golden years.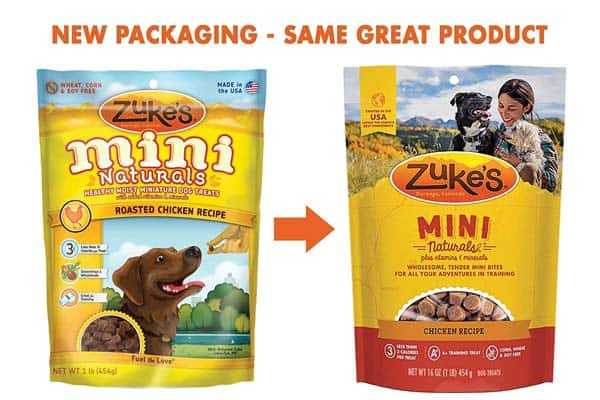 Why we like them:
This treat does not possess any gluten, soy, wheat, or corn.
You can avail this treat in small, medium, and large sizes.
Your senior dog will love the unique and chewy texture this treat provides.
This treat is the perfect option to please your dog's taste buds and palate.
What we don't like about them:
Despite having two natural fruit flavors – carrots and apples – this treat seems to not appeal to some dogs.
Users have commented on how their dogs found it hard to digest these treats.
Final thoughts on finding the perfect treat for your senior dogs
Pets Web MD states that senior dogs will slowly lose interest in their food. In addition, if you think that dog treats are the solution to your dog's bad breath, remember that this is only a secondary option.
Vet Street confirmed that the primary course of action should be to clean your dog's mouth regularly.