The companionship that pets provide us with far outweighs any of the negatives that come along with these animals.
But no matter how much we love them, there's still plenty of fur on the floor. Buying a pet hair removal tool can keep you and your furry friends happy.
Why Do Pets Shed?
The truth of the matter is that all dogs and cats shed. Spruce Pets even shares that hypoallergenic dogs, or dogs without fur, will shed in little quantities.
The American Kennel Club recognizes that certain breeds are likely to shed year-round compared to seasonally in order to rid themselves of the dead fur. This prepares them for their thicker winter coats.
Why Removing Pet Fur from Your Home is Important
According to Pet MD, pet hair can be a problematic occurrence when not properly dealt with.
Hair that is shed into your home can actually increase the probability of allergies, asthma and other similar conditions. This can affect you, your family, and even your guests that come to visit.
Another problem caused by the buildup of pet fur in and around your apartment or house is the effect it may have an effect on your appliances.
Consumer Reports states that washing machines will break down if loaded with enough pet fur that can be found in our clothing, blankets, and bedding.
Which Features Should I Look for in a Pet Hair Remover?
Pet hair removers come in a variety of shapes and sizes in order to combat the buildup of fur in our homes. Take a look at the factors listed below before making your choice.
Convenience: Some fur removal tools are big and cumbersome, while others are easier to take into a different room. Considering how easy it will be to set up will save you hassle later down the road.
Durability: Certain products claim that they can effectively remove pet fur. But with so much hair building up in our homes, not every fur removal tool is up to the job.
Setting: Knowing how to use the selected remover can aid you in the long run. Some pet hair removal tools are designed to get fur off of the surface while others provide you with a deeper cleaning.
Cost: With so many different objects, it is important to keep your budget in mind. Pet fur removers can quickly soar in price depending on the size and possible features.
Now that you have learned about the hazards of pet fur buildup in the house and the importance that removing it has, you can look at our 5 best products for pet hair removers. Below are the contenders in no particular order.
FURemover Pet Hair Removal Broom
FURemover 2-sided Lint Brush
Evercare Pet Mega Cleaning Roller Brush
True Touch Deshedding Glove
Dyson Animal Upright Vacuum Cleaner
Best Pet Hair Remover
FURemover Pet Hair Removal Broom
This remover is useful for an array of surfaces and areas of the house such as carpeting, rugs, stairs, and windows.
The rubber bristles on the bottom help to sweep up fur better than a normal broom. It is easy to clean with minimal maintenance required.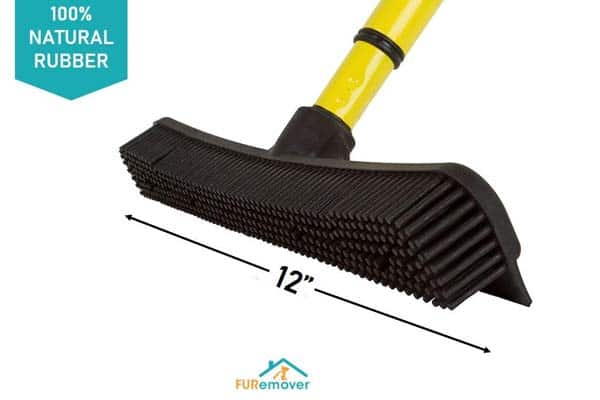 Pros
The bristles are made of 100 percent rubber and act as a magnet for fur.
The added squeegee aids in cleaning up dirt or messy spills.
Tackles a wide range such as upholstery and flooring.
Cons
This broom requires that the user apply a good amount of effort and power when sweeping up fur from the carpet.
FURemover 2-sided Lint Brush
This tool is also referred to as the Duo Brush and can be used such areas such as couches, carpeting, and clothing.
It can also be used directly on your animal with the added lint brush. The cleanup required with this pet removal tool is easy with regular maintenance. Many prefer this handheld item in a pinch.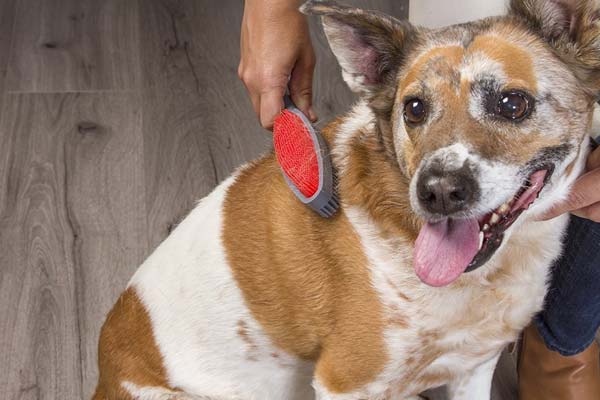 Pros
Acting as a reusable lint roller, this brush can be used to capture any stray hairs that find their way onto your clothing.
The rubber bristles aid in collecting fur off of upholstery.
It is easy to store and clean with a handheld design.
Cons
This tool is not made with larger areas in mind. It can only tackle smaller areas of the house as it is small and handheld.
Evercare Pet Mega Cleaning Roller Brush
Pet owners use this fur remover due to its easy-to-use application. It is capable of removing pet hair from low profile carpeting, bedding, and floors. The long handle makes it easy to use, reaching areas that a vacuum might not be able to.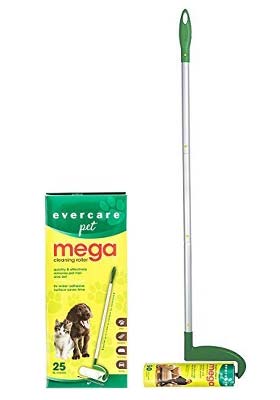 Pros
The Evercare Roller Brush is an ideal option for those looking for something similar to a large lint roller.
It is effective in getting cat and dog hair off of the couch, bed, or any flooring as long as it is low profile.
The handle is extendable for areas of the house that seem off limits and hard to clean.
Cons
This product does not tackle fur that is deeper within carpeted areas.
True Touch Deshedding Glove
Removing fur before it hits the ground can be one of the best preventative measures. With this deshedding glove, you can safely massage your pet while lifting away fur that needs to come out.
The five-fingered design fits easily over your hand for more controlled use.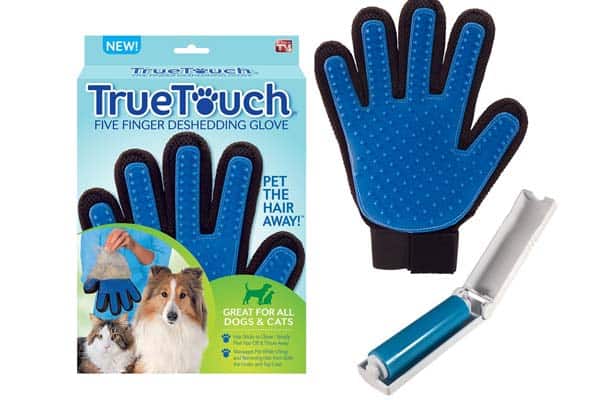 Pros
With a soft silicone outer layer, pet hair sticks to the glove so that it can be thrown away before clumping around your house.
Instead of using your bare hands to throw away dead fur, use these gloves as a barrier from possible allergens.
This product is easy to clean and the fur comes off easily.
Cons
The True Touch Deshedding Glove is ideal for long-haired dogs and cats and does not work all too well on those with shorter coats.
Dyson Animal Upright Vacuum Cleaner
This vacuum cleaner is specifically designed to eliminate fur that is built up deep in your carpets. This achieved through a reconfigured brush bar that pushes bristles deeper into the carpet.
It is lightweight and made to withstand a good amount of fur, unlike other vacuums.
Pros
The added combination tool and stair tool make removing pet fur all that much more attainable with a deeper cleaning.
This vacuum is easy to maneuver around the house.
It is easy to remove and empty with little fuss.
Cons
This product is more expensive than other pet hair removers but is worth the price when considering the deeper cleaning.
When it comes to our pets, we would do almost anything for them. That includes investing in a high-quality pet hair removal tool that will remove every last bit of hair from the carpet, flooring, and upholstery.
The removal of shedding from your home will help you, your family and pets from possible allergies.