You've just adopted your new Labrador retriever puppy, and now you're looking forward to a new fascinating life with your dog. If this is your first dog, then you have more than likely said to yourself, "What are the best Labrador retriever training books?"
While books aren't the preferred media these days, they can be to some people. You can always look on the Internet for videos on how to train your dog, but these are only good for training one skill or fixing one bad behavior.
If you want to train your puppy properly, then you should consider finding a program and sticking to it. A program can take you through the progression of steps that you should follow to train your puppy without much hassle fully.
If you are clicking between one video to another, you'll probably miss something important. Skipping one important step can leave your puppy, and you frustrated.
So, if you're looking for a way to properly train your puppy, then it's suggested that you look at some of these Labrador retriever training books and find the one that best fits your goals and personality.
Known for his spots on the Animal Plant and his YouTube channel, Zak George, a renowned dog trainer, now has a Labrador retriever training book.
This book is one of the best manuals to use for training because it gives you a new, fresh take on raising a perfect puppy. This book is 240-pages long and covers all of the basics, from potty training to aggression to leash-pulling.
It also gives you must-know tips relating to owning a dog, such as when to take your dog to the vet and how to choose the right food for your puppy's needs.
Zak George's book gives you a humane and friendly approach to training your dog and is filled with advice on "talking to" your dog and decoding.
This book is mostly filled with "how-to's" than it is on the technical training material. It touches on just about every topic you'll need to know and is a great book for new and veteran dog owners. People who have bought this book enjoy the tips on positive reinforcement and the tips on "speaking dog" via your body language.
Pros
Written by a renowned dog trainer
One of the best books to use for training
Covers all of the basic training needs (i.e., potty training)
Teaches you how to decode your dog
Touches on every topic you might need
Cons
Mostly filled with information that doesn't relate to training your dog
Not all methods will work
Getting a new puppy is an exciting time that's filled with snuggles and kisses and even lost sleep. Written by the Monks of New Skete, a community of dog-loving monks who know plenty about raising puppies, The Art of Raising a Puppy is a great book to get started with.
There are 352 pages, and they are all filled with amazing advice on how to care for and love your new puppy along with training advice, as the monks use their 30-plus years of experience raising German Shepard puppies.
This book is a great way to learn how to help your dog adjust to their new home while offering tips for every stage of a dog's life.
This book isn't just well written; it's also full of overwhelmingly useful advice that you can refer to all the time.
Pros
Written by monks who know what they're talking about
A great book to use when getting started with a puppy
Gives advice for every stage of your dog's life
Cons
This book can leave you feeling like you need to read more training books
Are you struggling to housebreak your new dog? If so, then How To Housebreak Your Dog in 7 Days is a great book to invest in. The author of this book of Shirlee Kalstone, who is a pet expert, and gives you amazing advice and help on how to train even the most "untrainable" dogs.
It includes tactics on all types of house training, from housebreaking to paper training to litter training. This book will even give you suggestions on potty schedules that you can adhere to, advice for how to handle accidents, and tips on how to positively reinforce your dog.
Housebreaking can be slow and trying to practice. This book will help you train your dog no matter how old they are!
Pros
Written to teach you how to housebreak your puppy
Written by a pet expert
Full of helpful advice
Great for all types of housebreaking
Cons
Only about housebreaking your dog
Not a book, more of a pamphlet
Usually takes more than seven days to housebreak your dog
We all know that age-old tale of a child who asks for a puppy and then never takes responsibility for their new friend.
Good news: Now you can let your child take charge of training their new dog with this brilliant and invaluable book.
This book is written specifically for children and focuses on helping them learn how to train, care for, and nurture their new puppy.
It helps children learn the basics of clicker training, healthy exercise, and socialization.
There are 96 pages in this book and is photo-heavy, which makes it so that kids can visualize rather than read a manual with long blocks of text. This book is perfect for middle school-aged children and under.
Pros
Perfect for children
Filled with pictures of training actions
Lets your child take on the responsibility of their new dog
Easy to learn training basics
Cons
Designed for children
Not a training book, more of how to treat a dog book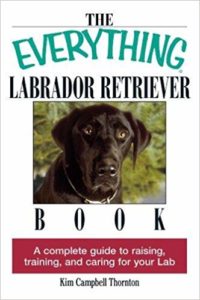 The author of this book, Kim Campbell Thornton, is a dog expert – especially when it comes to Labrador retrievers.
This book is filled with professional, breed-specific advice that helps readers train, care for, and raise their Lab successfully and safely.
It doesn't matter if this is your first dog or if you're a seasoned dog owner, you'll find incredibly useful information in here that you might not have known. There are plenty of photos of Labs in action, so you'll know what you should be doing.
Pros
Filled with professional advice
Great for new and seasoned owners
Filled with pictures
Easy to understand
Cons
Doesn't go into much information about training your dog
This line of training books is designed to give pet care information for specific breeds and animals. These books are full of detailed advice and instructions that you can use when training your Lab.
This is a newly revised title that tells prospective owners that they need to know about their friendly, gentle, and fun-loving Lab.
Some of the topics that are included in this book include selecting your new puppy, socializing your dog, house training, purchasing canine equipment, teaching basic obedience, communicating with your Lab, and so much more.
There are also attractive color photos throughout this book that will help you gain the most information.
Pros
Designed to give advice and information based on breed and animal
Newly revised tittle
Includes many useful topics for new owners
Features attractive photos throughout the book
Easy to read
Cons
Filled with "do's" and "don'ts"
Only has basic information
Now that your dog is housebroken, it's time to keep them mentally sharp and engaged by teaching them to do tricks.
This book is the ultimate guide to teaching your dog every trick in the book (literally in this case).
There are color-coded guides in this book that help you learn how to teach your dog each of their 101 tricks; each trick is rated on difficulty and necessary prerequisites that your dog should know before you try the tricks.
There are so many tricks that you can teach your dog, including stay, fetch, and stay and goes into even more advanced tricks that you might not have thought of.
This book will teach your dog tricks that will keep them active, engaged, and challenged, which makes it, so they're less likely to destroy your homes.
Pros
Features 101 tricks that you can easily teach your dog
Easy to read and understand
Keeps your dog active, engaged, and challenged
Your one-stop-shop for tricks
Cons
Is best used for responsive dogs
Steps are missing in some of the tricks
Cesar Millan is a well-known dog trainer throughout the country, thanks to his show Dog Whisperer with Cesar Millan.
In this book, Millan discusses his knowledge about dog psychology and discusses how behavioral issues develop in dogs and how you can correct them.
He also goes into explaining the difference between punishment and discipline, and how to pack instincts can be used to improve your relationship with your dog. In this book, you'll also find that it includes details of some stories from a few of his clients.
Pros
Written by a well-known dog expert
Goes into detail about the dog psychology
Explains how behavioral issues develop
Helps you learn how to correct common issues in dogs
Cons
More of an autobiography instead of a training manual
Using techniques that she used on Obama's dog, Dawn Sylvia-Stasiewicz has written this book to give share those same techniques with other people.
In her book, she talks about positive reinforcement techniques rather than punishments and reprimands. This five-week program utilizes ten- to 20-minute sessions every day for both dogs and puppies.
It goes into detail about avoiding or correcting behavioral issues, potty and crate training, hand feeding, and basic training. The book also talks about how you can make your dog feel comfortable with strangers and vet visits.
Pros
Uses positive reinforcement
A five-week program that requires work every day
Gives advice on how to properly train your dog
Gives advice on how to make your dog more comfortable
Cons
Some of the tips are tedious and might seem like overkill
Training your dog is a very important stage in your puppy's life. Training is the time when your dog learns not to go potty in your house, how to come to their name, how to sit, and so much more. When you have a Labrador retriever puppy, it's important that you take the time that's required for training them.
Remember that dogs don't come with instruction manuals, but there are materials that you can use to help you gain a better understanding of who your dog is and why they react the way they do. Plus, the manuals can even teach you how to train your dog so that, for example, it's housebroken.
The books that are listed above have already helped thousands of people train their dogs over the years, and they're some of the highest-rated books on Amazon for that reason.
If you don't know where to begin, any of the books described above are perfect for helping you gain a better understanding of what is expected at each stage of your dog's life.
Just by taking the time to read one of these books is a great way to gain training knowledge and advice on how to treat your dog. Take advantage of one of these books so that you know that you're providing your puppy with the best training possible.