Adopting a new dog is a serious responsibility to volunteer for. Before you can even bring your new pet home, you must make your home feel comfortable for them. Transitioning into a new home is a slow process, and you should do everything in your power to help ease them through that transition.
One of the first items on your list is a sufficient dog bed. Buy a dog bed that is both comfortable and easy for you to clean. You want your dog to be comfortable, but you also don't want something that is going to cause you a lot of hassle. An overly fluffy dog bed is not always necessary; some dogs prefer less padding to lay on.
Elevated dog beds provide a lot of support and do a great job at keeping your pet cool; thick beds get hot quickly and tend to overheat pets that have a lot of fur in their coat.
What Is an Elevated Dog Bed?
An elevated dog bed is a pet bed that is raised off the floor with the help of a metal frame. They don't have padding; it is usually just a piece of sturdy fabric, like what would be on some outdoor furniture.
There are many benefits to using this type of dog bed. You can even use it in addition to your dog's normal bed or kennel; try placing the elevated dog bed outside for lounging on nice days.
Benefits of Using an Elevated Dog Bed
Reduced allergies for humans and pet
Can be used outdoors or indoors
Very easy to clean
Increased airflow and cooling for a pet
Reduced Allergies
Padded dog beds are a magnet for dog hair, dirt, and other allergens that affect both you and your dog. No matter how many times you clean the bed, there is most likely still some type of hair or debris stuck in its crevices. The only way you can completely eliminate this problem is to buy an elevated dog bed.
Elevated dog beds have only a thin piece of material that has very little room for dirt and dust to gather, and it is virtually impossible for dog hair to stick to it long enough to cause an allergic breakout.
Dogs get allergies the same way their owners do. When people get allergies, it usually causes problems with their sinuses and eyes; when dogs have problems, it is with their skin and eyes. Dogs can be sensitive to dust mites, especially. Of course, you can keep some of these dust mites away by grooming your dog often since they are attracted to dander, but it takes a lot less maintenance to invest in an elevated bed instead. Elevated dog beds are inexpensive.
Symptoms of Allergies in Dogs
Constant scratching
Hives
Chapped skin
Red or watery eyes
Runny nose
Sneezing
Outdoor or Indoor Bed
Elevated dog beds can be used indoors or outdoors because of the material that the hammock-type bed is made out of. If it gets wet, it dries very quickly, the same way outdoor furniture does when it gets wet.
Elevated dog beds can provide comfort inside or outside, and they are lightweight, so if you want to move it back and forth, it takes little effort. Your pup will appreciate the ability to lay around outside.
Easy to Clean
All you have to do when an elevated dog bed gets dirty is wipe it off with a wet towel and let it dry. It takes a lot more hassle to clean a thick padded dog bed; they require full washing in a washing machine and a full cycle in the dryer or hours in the sun to dry.
Elevated dog beds aren't like this; they practically keep themselves clean. If you want, you can buy a pad that attaches to the top of the elevated bed, which can be easily removed for cleaning. Keep reading to see a product listing for an elevated dog bed pad.
Increased Airflow
The fabric that is on an elevated dog bed isn't completely solid; it allows a small amount of air and breeze to pass through. This increased airflow outcome effectively keeps your dog cool and prevents them from overheating.
A dog bed like this might be handy if your dog wants to lounge outside but usually become too hot because of their thick coat. If you keep the elevated bed inside, your dog might enjoy laying on it after a long walk to cool off.
Best Elevated Dog Bed
If you are looking for the best-elevated dog bed available, you should examine its features and materials. A great elevated dog bed should have a sturdy frame that is made out of steel. Any other type of metal frame may be flimsy and won't be safe, especially if your dog is extremely heavy. Another aspect you should look at is the type of material suspended on it. The best materials for elevated dog beds are polyester or mesh.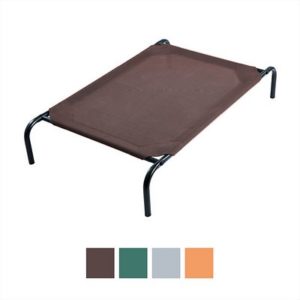 This Elevated Pet Bed by Frisco fits most small to medium-sized dog breeds since it comes in three sizes: small, medium, and large. The frame is comprised of sturdy stainless-steel bars that hold up a suspended polyester bed. The legs have feet underneath that keep the bed from sliding when your dog jumps onto it. This is one of the nicest and simplest looking elevated pet beds that are available. There are four color choices, which are brown (pictured above), terracotta, green, and gray.
This elevated dog bed had the option of buying a separate replaceable cover if for some reason the first one you buy gets destroyed or worn down (view replacement covers below).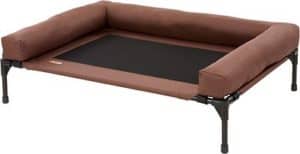 K&H Pet Products is one of the main pet brands you will see that sells elevated pet beds and accessories for them. This dog bed is unique since it has an added cushion barrier around three of its sides. Most elevated pet beds have no barrier and no cushion, but it creates nice neck support for a napping dog. The legs on this dog bed have rubber feet that keep it from sliding around. This elevated dog bed is sturdy. The material on top is mesh in the middle and nylon around the edges with nylon on the barrier cushion.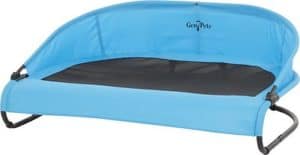 This elevated dog bed is shaped differently than other beds. Most elevated dog beds have four legs that protrude down rather than having one long curved bar like this bed has. The back of it also has a back panel that helps your pet stay on the bed. Elevated beds that don't have this back panel or any type of outer barrier for that matter pose the risk of your dog falling off when he's in a deep sleep. This can be dangerous if your dog is sleeping in a weird position, and due to the 5 or 6-inch drop, they could hurt themselves. Larger dogs will be fine, but it's another story for smaller dogs. So, the back panel is its best feature.
The main material where your dog will lay is made out of mesh, and the bars that hold the bed up are powder-coated stainless-steel.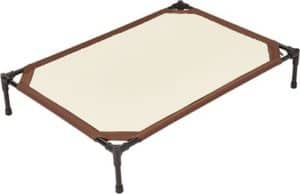 Unlike most elevated dog beds that provide a cooling effect, this elevated dog bed gives more of a warming effect. This is the best type of elevated bed for dog owners who live in a cold climate. Sometimes it is nice to bring your dog outside with you to enjoy the cool weather; but the cold can be dangerous, so you want something that can hold them off of the cold ground and keep them warm. Rather than mesh, this bed is fleece. The fleece is what creates the self-warming effect. It is a great bed for frequent switching between indoor and outdoor use.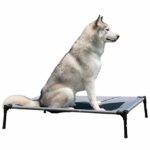 This elevated dog bed is lesser-known, but it is still one of the best because of the way that it is set up. The Teslin mesh/ Oxford cloth cover is removable and washable. You can also take the bed almost anywhere; it is a great option if you plan on using it on a lot of camping trips or while traveling. The legs are PVC, but they have non-skid rubber feet to keep the bed steady. It fits almost all sizes of dogs and comes in a medium or large size. As you can see in the picture, even the medium size fits a fully-grown husky.
Accessories for Elevated Dog Bed
Elevated dog beds are beneficial in a lot of ways, but there are a few accessories you can add to them to make it even better. You can add a canopy that attaches over the top of the elevated bed for shade. Canopies are a good idea if you plan on taking your dog with you to the beach or another sunny area outside.
In addition to a canopy, there are cushions and small padded dog pillows that you can put on the elevated dog bed which will make it more comfortable for indoor use. All of these accessories can be found online. Here are a few of them that are compatible with the elevated dog beds that you read about earlier in this discussion.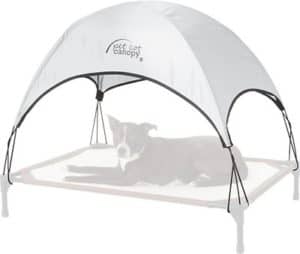 This is a polyester canopy that can attach to any of the elevated dog beds that are made by K&H Pet Products. Its dimensions are 30 x 42 inches. Simply hook it over the four legs of the elevated dog bed and watch your dog enjoy his newly found shade.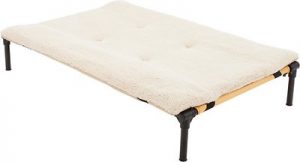 Cushion pads make elevated dog beds so much better because they add an extra level of comfort that it was lacking. This pad is made by K&H Pet Products and fits their Original Pet Cot. It comes in a small, medium, large, or extra-large size.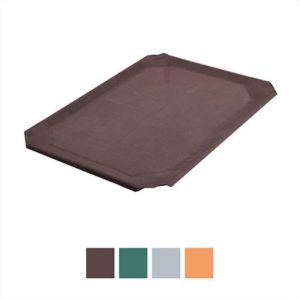 This item is more of a replacement part than an accessory. It is a replacement cover for the Frisco Elevated Dog Bed that was previously mentioned earlier in this reading. Not every pet product can withstand the destructive instinct of some dogs. Hopefully, that is not the case with your dog, but if it is, this is a cheap replacement cover that you can attach in just two seconds onto your Frisco dog bed. It is made of the same exact material, polyester. It also, conveniently, comes in the same colors and sizes.
Summary
There are all sorts of types of dog beds to choose from when you go shopping for your dog. Even if you are shopping online rather than in-store, the options can still be overwhelming, and you may feel at a loss. There are flat dog beds, super cushiony dog beds, and then there are elevated dog beds (just to name a few).
Elevated dog beds are a great option. The main reason you would want to get an elevated dog bed is if you want to take your dog with you to outdoor locations often, like a camping site or the beach. The elevation of the bed keeps your dog not only clean and off of the ground, but it keeps them cooled and comfortable.
Hanging out on the beach is a huge reason to buy one of these beds, because of the sand. You can also use them at home. Place it on your back porch or in your living room; either way will give your dog a nice place to the layout without having to worry about toys or excessive cushion being in the way.