Similar to humans, dogs also need some form of eye protection. Dog goggles or "Doggles," as quoted by Canidae and as most people would call it, is a form of eye protection for your dogs. The question now would be "Is it necessary?"
In an article by Pet MD, they interviewed veterinary ophthalmologist Dr. Jessica Stine on the real importance of dog goggles. As said, doggles is more than just making your pet look adorable. It functions to protect the eyes of your dogs from any form of injuries or the harsh rays of the sun.
We'll be talking more about this in this article. Also, if you are looking for the perfect pair of dog goggles in today's market, fret not.
We will be listing down our top options for this category as well as an in-depth review of the things we like and not like about the said products.
Doggles have become very popular over the past few years. In fact, Insider has posted a video on the use of goggles for outdoor adventures. Nonetheless, let us begin with the importance of this adorable pet protective eyewear.
Are there any specific breeds that should wear dog goggles?
Those breeds of dogs that should wear goggles are those that spend a lot of time outdoors. Hunting dogs will significantly benefit from goggles.
Furthermore, sporting dogs tend to run in thick bushes and overgrown surroundings. They would definitely need some form of eye protection to prevent any kind of injury.
On another note, Dogs Love to Know states how police and military dogs can also greatly benefit from wearing a pair of dog goggles.
Besides, they are typically subjected to various situations that may put them in danger or may cause them injuries. In this case, any form of protection is much welcomed.
What are the things you need to know about dog vision?
Doggles present more than just a form of protection against injuries. If you are not yet aware of how dog vision works, read on to find out more. You'll be surprised to know the similarities between dog eyes and human eyes.
With that in mind, the retina is used by humans and dogs for their vision. Nonetheless, canine veterinarians explain that the structure of a dog's retina has the same set of functions as that of a human.
Retinas are very sensitive to light. It acts like a switchboard that focuses on tasks such as receiving, sending, and decoding the images we see. Retinas are located at the rear of the eye. It detects colors and is most commonly referred to as the "film of the eye."
However, there are also some notable differences between how dog eyes and human eyes function.
How does your dog see the world?
Believe it or not, dogs do not see things clearly as compared to that of humans.
The dog's retina has a low number of cone cells which is specialized for high-resolution sight.
This may no longer be news, but dog's do not heavily rely on their vision as compared to that of humans. Because of this, the act of detecting and diagnosing vision issues and other eyesight problems in dogs are much more difficult.
A dog's eyes are much wider apart as compared to that of human eyes. Thus, dogs tend to have a better peripheral vision as well as wide-angle vision. Nonetheless, they lack the advantage of having a "field of depth vision" or keen frontal vision.
Dogs can see colors; however, what they see is less than what we humans see.
A dog has only two types of color-detection cone cells; a human has three.
Now that we have figured out the real importance of goggles and the way dog vision works, it is essential to recognize that this eyewear is more than just a fashion statement.
Shopping for high-quality dog goggles is essential to ensure that you protect your beloved pet, your partner in crime, and your friend from any type of injuries.
Here are our top picks for the best dog goggles in today's market:
COCOPET Adorable Dog Goggles Pet Sunglasses Eye Wear UV Protection Waterproof Sunglasses
COCOPET is one of the top providers of pet tools. You can shop for their wide array of dog goggles. Here's what we like about their new pet-friendly sunglasses: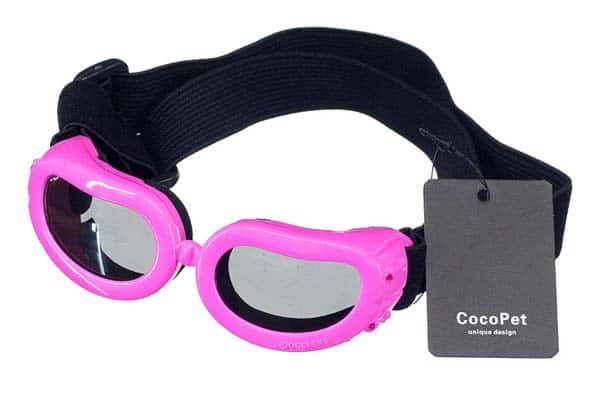 Pros
Windproof
Anti-debris
Anti-UV
Waterproof
Cons
Perfect for outdoor use but not for intense canine training
No other unique features
QUMY Dog Sunglasses Eye Wear Protection Waterproof Pet Goggles for Dogs
The QUMY offers the public another form of pet eyewear protection that works well with police dogs and hunting dogs. Here's our opinion about the product:
Pros
Features amazing shatterproof lens
Anti-fog
Anti-UV
Windproof
Waterproof
Anti-debris
Cons
Limited use for dogs over 15 pounds only
Enjoying Dog Goggles – Small Dog Sunglasses Waterproof Windproof UV Protection
When it comes to Enjoying Dog Goggles' products, it is important that you are not overwhelmed with their wide array of goggles.
Always go back to the importance of high-quality materials. With that in mind, here are the things we like and don't like about this product:
Pros
Windproof
Waterproof
Anti-debris
Anti-UV
Adjustable straps for the chin and head
Cons
Limited use for small dogs only
Perfect for outdoor use but not for intense canine training
There are certain limitations to some of these goggles products. Again, go back to why you need these in the first place. Are you training your dog for an outdoor sport? Are you going hunting with your dog?
Are you involved with training canines for police and military use? These are the questions that will greatly affect your decision in buying.
Final thoughts on shopping for the right kind of dog goggles
In the end, there are a lot of factors that should be considered when buying a goggle. Your dog's eyesight is as important as yours. While they may not rely heavily on it, it is still crucial that they receive the proper protection for their eyes.