Any dog owner knows how problematic it can be to have your dog loose in the house when they're prone to chewing everything valuable that you own.
Even though you buy them multiple toys and things to hopefully catch their attention, they still somehow are interested in chewing your couch pillows. Not only this, but it seems that dogs are even interested in chewing their own dog beds.
It can be difficult to stop your dog from chewing his own bed. Consequently, you're advised to purchase a dog bed that's specifically made to withstand dogs' chewing teeth.
Here is some information on how to potentially stop your dog from chewing valuable things as well as some information about the best dogs beds specifically made for chewers.
Why do they chew everything?
Generally, it's normal for your dog to chew everything that it sees in its path. The Humane Society of the United States claims that there are many reasons why they desire to constantly chew at things, and it depends on a wide variety of factors.
For instance, young dogs may desire to chew things because they're teething and it relieves their pain. Vetstreet states that older dogs may chew things in order to keep their jaw strong for protection.
And some other reasons why dogs chew may be to clean their teeth, to cure boredom, to combat anxiety or stress, or for mere pleasure.
How to eliminate destructive chewing
There are several things that you can do to stop your dog from chewing everything, but you must first find out why they're destructively chewing objects, to begin with. Once you find the cause of the chewing, you can do things to eliminate it and fix the problem.
According to the ASPCA, if your dog is chewing from stress, it's likely that they are stressed from separation anxiety or from something that they have done bad and are scared of the reproductions.
Consequently, Petcube claims that you should spend more time with your dog and allow them not to worry or feel bad about what they did.
If they're a younger dog and are chewing from teething, you're advised to give them other things to chew on that would feel better than fabric.
For instance, giving them ice cubes to chew on would not only feel good on their gums, but it will numb their teeth and relieve the pain from their teeth coming in.
When your dog's chewing from boredom, Dogtime claims that you should surround them with other distractions. For instance, make sure they have plenty of toys around them to play with and maybe even consider turning the tv on or opening the curtains to let them watch outside.
If none of these seem to work well enough, you could consider ways to discourage them from chewing their bed.
For example, many people find it effective when they have a spray bottle full of water, where they spray their dog with water every time they chew the bed.
Aside from the tips above, this YouTube video will explain a few other tips in detail on how to get rid of destructive chewing.
What to look for when purchasing a dog bed for chewers
When you're searching for a dog bed, there are some specific things that you should consider. For instance, you should obviously consider the size of the bed.
Make sure it's the right size for your dog so that it's not too big and there's the extra fabric for them to chew on.
Additionally, you should also consider the color of the bed. Refrain from choosing a bed that is bright-colored and will attract your dog's attention.
Furthermore, you should consider the material and the price of the bed. You're advised to choose a bed that has high-quality material and costs more.
The extra cost will be worth it, considering it will likely last longer and be able to withstand more chewing if it does occur.
3 Best Dog Beds for Chewers
1. Friends Forever Orthopedic Dog Bed
This dog bed is great for chewers because it contains an anti-tear, removable cover that is easy to clean and is resistant to mild chewers.
Additionally, this dog bed is dedicated to optimizing your dog's comfort above everything else, since it contains a cushioned plush poly-fill bolster for your dog to rest on.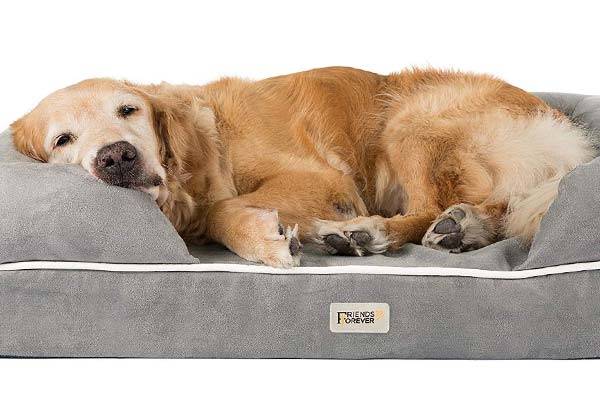 Check the prices on Amazon's Choice
Pros
Water-resistant
Holds up to 75 pounds
Easy to clean removable cover
Comes in a variety of sizes
Cons
More expensive than the others
Foam under the removable cover contains smells overtime
The bottom mattress isn't as thick as the other dog beds
2. The Dog's Bed
This dog bed is beneficial for chewers because it contains a high-quality material that includes an outer covering made from Oxford fabric in addition to a waterproof coating.
Furthermore, this dog bed also comes in a variety of sizes, ranging anywhere from medium to XXL.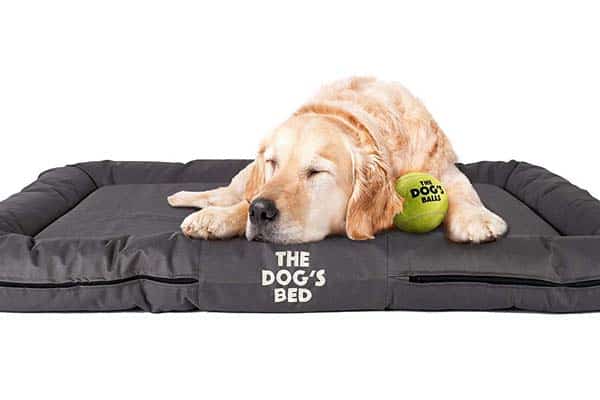 Pros
Fits in a car crate
Contains a dense, solid foam mattress
Can be easily cleaned
Cons
The zipper isn't very durable
The outer covering is a very thing over the mattress
3. K9 Ballistics Tough Dog Pad
This dog bed is most beneficial for chewers because it contains a chew resistant construction that's specifically made for dogs that chew their beds.
It's able to resist 90% of chewing dogs. Not only this, but this dog pad also contains a durable ripstop ballistic cover, and is made from recycled material, which is known for its optimized durability.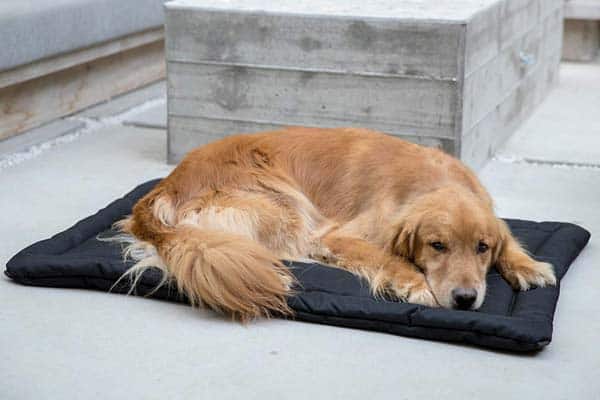 Pros
Chew-resistant
Waterproof
Scratch-proof
Bite-proof
Contains no zippers or Velcro
Cons
Dog pad is made specifically made for a crate
Can't be as easily cleaned like the other dog beds