Contrary to what most pet owners believe, a dog rug is more than just your typical rug. A rug for pets can heavily depend on the kind of lifestyle your dog or cat possesses.
Furthermore, the development of carpets in today's market is slowly declining as homeowners tend to focus more on hardwood floors.
With that in mind, pet owners find it hard to juggle between having an aesthetically pleasing house and a pet-friendly one. Lucky for you, there is a solution where a house owner can have a beautiful yet functional home for their pets.
In this article, we will be talking about everything there is to know about shopping for the right kind of dog rug.
We'll start with the perfect mats for the type of dog you have. You'll be surprised to know how each type of pet-friendly carpet has its own function.
What is the best carpet for dog urine?
There are dogs that have bladder issues and there is simply nothing you can do to have them control it. As a result, you are left to deal with the aftermath.
The good news is that there are pet-friendly rugs that are also "dog pee-friendly." Here's a video by RC Willey on how to choose carpets that deal with stain quite well.
The truth is that standard carpets are not machine washable. If you are looking for dog pee-friendly rugs, opt for something that is warm and super plush. With this, soaking up your dog's urine will not be an issue.
Here's our pick for this category: 
My Doggy Place – Ultra Absorbent Microfiber Dog Door Mat
My Doggy Place is great for absorbing dog urine as it has five times the absorption rate of normal carpets. According to Carpet Mart, the perfect rug for those with bladder issues are those that can soak up both liquid and dirt at the same time like magic!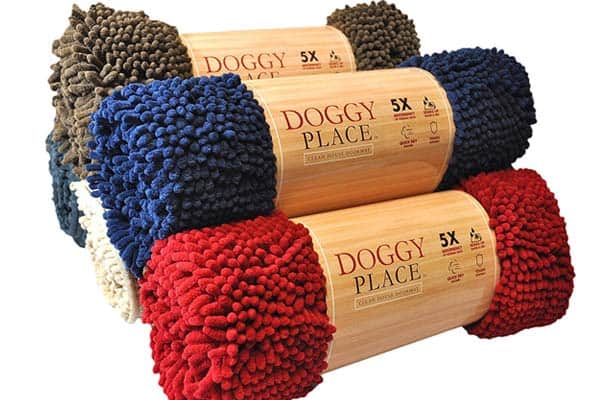 What we like about this dog rug:
Five times the absorption rate of typical rugs.
Features a "no slip" backing.
Features durable materials and double stitching.
Washable by machine.
What we do not like about this dog rug:
The odor of the rug upon purchase is not pleasant.
What is the best carpet for when your dog sheds?
Another issue faced by most pet owners is when their dogs start to shed. There are several ways to resolve a pet's shedding; however, if you are looking for a more passive way to do it, buying a carpet may appeal to you the most.
Long-haired dogs tend to shed. A carpet that is easily vacuumed will work great with them, especially during their shedding season.
Opt for something that possesses a semi-random color scheme for the purpose of not having the dog hairs stand out between vacuums. Avoid rugs with distinct patterns or solid colors.
Here's our pick for this category: 
Dog Gone Smart Dirty Dog Doormat
The Dog Gone Smart Dirty Dog Doormat works well with shedders. As mentioned, you need to avoid rugs with distinct patterns and solid colors; you can do this by choosing among their wide array of designs.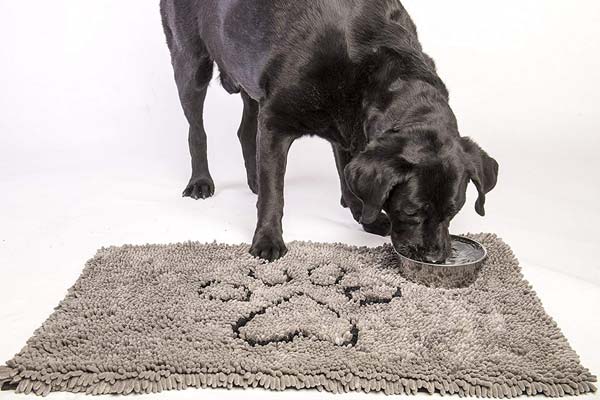 What we like about this dog rug:
An absorption rate of 3000.
Features a "Gripper Non-Skid" backing on the bottom of the rug.
Features microfiber that allows a fast drying process.
This rug prevents any skidding or movement.
This rug is perfect for long-haired dogs.
This rug is perfect for large breed dogs.
What we do not like about this dog rug:
The durability of this dog rug is questionable.
What are some of the best runner dog-friendly carpets?
To put it simply, a runner dog is someone who tends to get too excited to rush into your home. Most of the time, runners would bring in so much dirt and leaves from outside.
Nobody wants to do the dirty work and mop the floors every time this happens. If this is the case, a runner rug is exactly what you need.
Finding the perfect runner rug entails that you look for a carpet with a material that is super absorbent. An outdoor rug can be used as a pet-friendly indoor rug. You'll be able to mop up the mud and moisture easily. Also, you can even use it to clean your runner dog manually.
Here's our pick for this category: 
Internet's Best Chenille Dog Mat
Some rugs are specifically designed to handle pet stains. With the Internet's Best Chenille Dog Mat, you no longer have to worry too much about your dogs bringing in dirt from outside.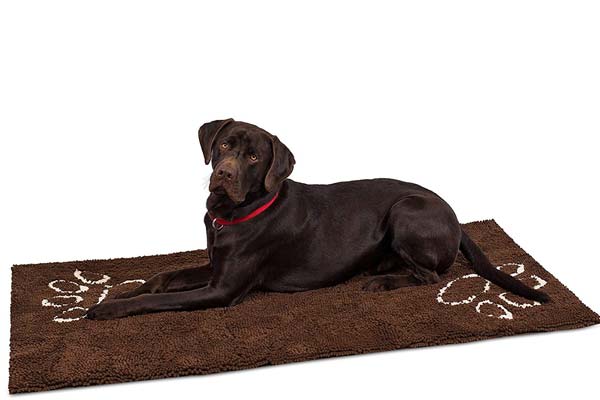 What we like about this dog rug:
This rug is perfect for front doors, back doors, laundry rooms, and beside the dog water bowl.
Features a super absorbent and soft top.
Features high-quality microfiber bristles that can absorb water and dirt.
Features a non-skid bottom that prevents any skidding.
The microfiber bristles of this rug are responsible for trapping any mud, dirt, and leaves from your dog's paws.
This rug can easily be washed by machine.
What we do not like about this dog rug:
Despite what was mentioned in its product description, it easily tears off when washed by machine.
What are the things you need to know about the materials used in pet-friendly rugs?
There is so much more to simply choosing a pet-friendly rug than finding the most aesthetically pleasing carpet you see online. Buying the first dog rug you see in the store is highly discouraged.
Final thoughts on finding the perfect rug or carpet for your dog
When it comes to the backing of your pet-friendly rug, most customers find it hard to find something that is durable; thus, the need to know what materials work best for the kind of pet you have.
Furthermore, figuring out why you need a dog rug in the first place can help you narrow down your search.