Every dog owner knows how much dogs enjoy playtime with their favorite toys, and that's why finding the best toys for your dog matters.
This video explains what different types of interactive dog toys there are to choose from, and why they may be good. However, for many dogs, a moving toy is a perfect fit.
Moving dog toys are a great choice for most dogs because they can keep your dog occupied and entertained. Moving toys allow for your dog to play by themselves, which is great for dogs who get into trouble when left alone.
It's perfect for when you can't be with your furry friend, but you still want to be sure that your dog is happy and staying out of trouble. When left alone, dogs can become restless, bored, and anxious – which is why having the right toys are so important.
No matter why you want to get a moving toy for your dog, there's plenty of things to consider when browsing. Durability, size, and features are all things you may want to think about.
Choosing something that can't be torn apart is probably a good idea, so you may want to pick a toy made of strong material if your dog tends to chew.
If your dog is small, be sure not to choose a massive sized toy, and don't pick something too small for a large dog.
With these factors in mind, there's plenty of interactive dog toys to choose from. Here are some of the best moving dog toys that your dog would likely enjoy.
Pet Qwerks Talking Babble Ball Interactive Dog Toy
This Babble Ball dog toy by PetQwerks has many different features that make it a great dog toy. It is motion activated, lights up, and can make 18 different sounds.
It's battery operated but can last for a long amount of use. The tough construction of the ball makes it difficult for any pet to destroy, so you won't need to worry about finding it in pieces.
This toy is intended to keep dogs occupied, especially when left alone for a while. If you're looking for a toy that'll keep your dog interested and busy, this may be a great choice.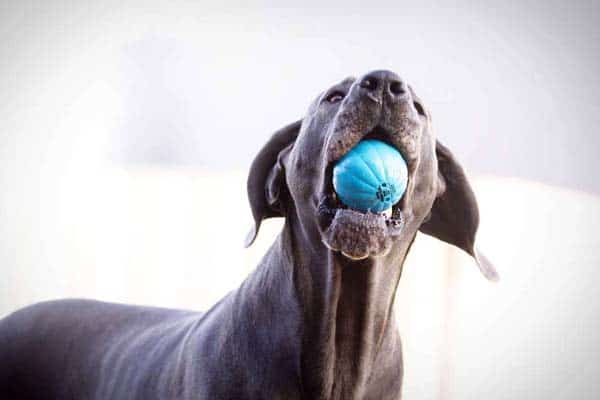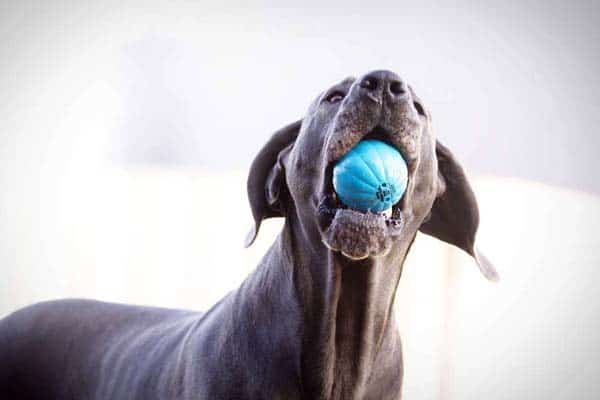 YOGADOG Interactive Plush Squeaky Dog Toys
This toy by Yogadog is designed to bring out predatory instincts in your dog while keeping them entertained and happy. Most have a natural desire to hunt, and this toy will likely satisfy that instinct.
The toy is an animated ball, with a plush furry slipcover to make the ball resemble prey. The motor-driven ball will make the toy bounce and shake. It also can make squeaking sounds, which will also likely interest your dog.
This toy is great for dogs of various sizes, but it's probably especially good for smaller dogs. Overall, this is a fantastic toy for keeping your dog's attention.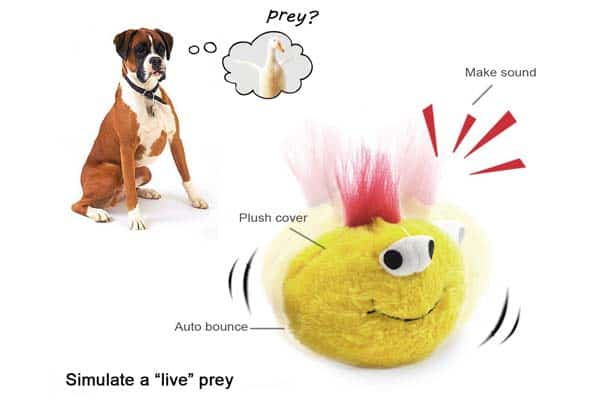 Hyper Pet Doggie Pal Plush Interactive Dog Toys
This is another toy intended for satisfying your dog's hunting instinct. The Hyper Pet Doggie Pal Plush is a fluffy tail that moves. It wiggles, barks, and makes other sounds that'll likely get your dog's attention.
It's great for dogs who can be hyperactive, or for those who hate to be left alone. The movements and sounds will likely excite your dog, and it's a great size for small and large dogs.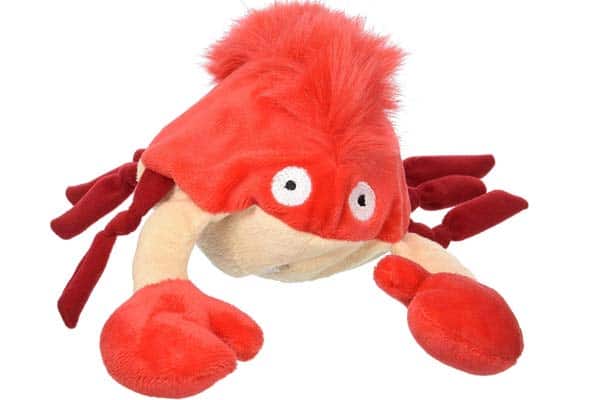 Weazel Ball Motorized Ball Pet Toy
This toy is one that'll likely keep your dog's attention, even if the batteries run out. The motorized ball with a fluffy plush weasel attached to it will probably interest your dog.
When it's turned on, the ball will roll on its own, giving your dog the chance to chase it. Dogs of almost any size can enjoy this toy. Only one battery is required, and the toy is constructed well to last for hours and hours of fun.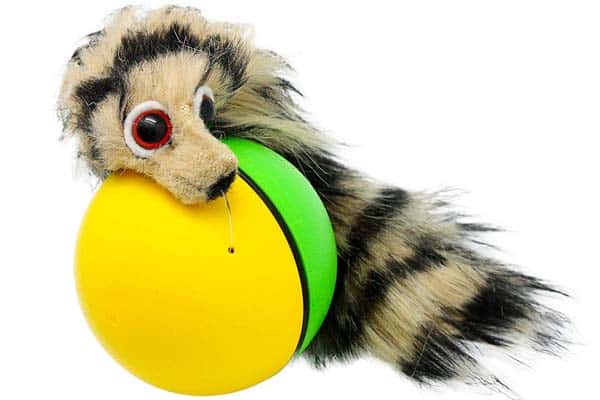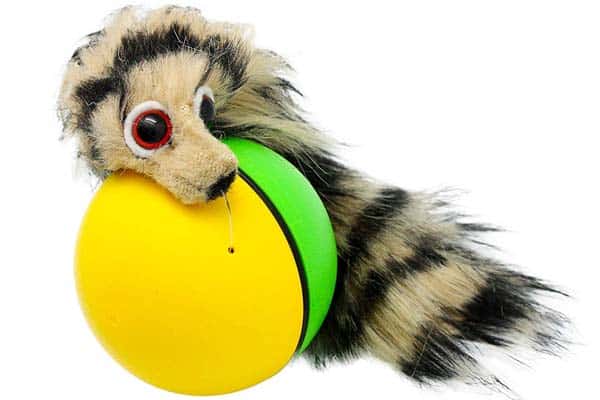 Petony Dog Food Treat Ball Toys with Holes Dispenser
It's no surprise that dogs love receiving treats, which is why this dog food treat ball will likely be a hit with your dog.
It isn't battery operated, but the toy is shaped like an egg – allowing it to roll and move while your dog plays with it.
You can insert your dog's favorite treats inside the toy, which will keep your dog's interest.
The toy is made of durable, high-quality plastic, so your dog would not likely be able to destroy it. This may be a great toy for anyone who wants to keep their dog out of trouble while left alone.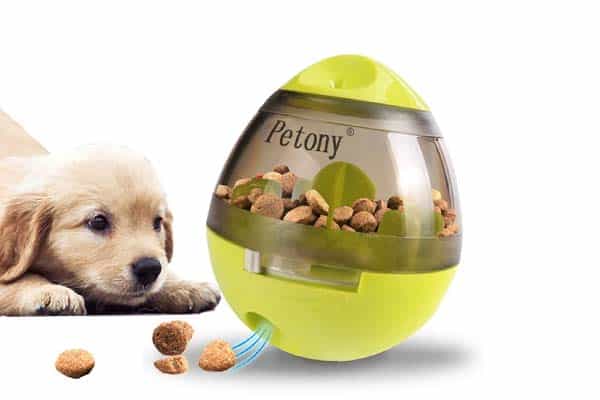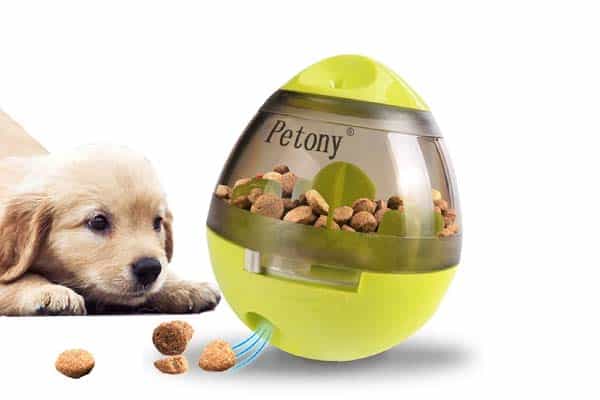 JW RoboBone Electronic Treat Dispenser
The JW RoboBone is another treat dispensing toy designed to keep your dog occupied. The bone-shaped dispenser can be filled with small treats, and it requires batteries to move on its own. Once you turn it on, it'll travel at random, dispensing treats occasionally.
Your dog will likely want to figure out how to get more treats from it. Keeping your dog busy is almost always a good thing, and this toy can help with that.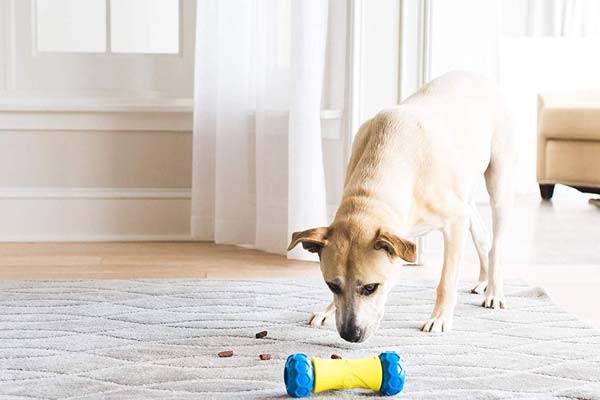 the Bulldog by Zeus, Interactive Dog Toy for Large & Small Dogs
This last toy is a good option for dogs who enjoy chasing their toys. The large plush bulldog head barks shake and roll around. Like other similar toys, it consists of a motorized ball with a plush cover and is battery operated.
It's small enough for most dogs to play with. The sounds and motions will probably interest your dog for a while, which is perfect for dogs who get bored easily. This may be the right toy to consider if you're looking for an animated plush toy.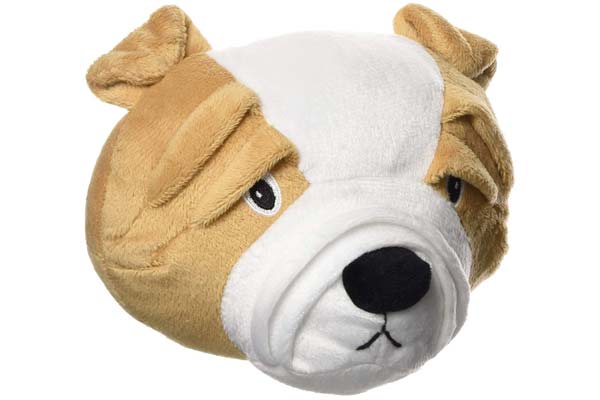 These toys are great options for dog owners looking for fun interactive toys. Whether your dog prefers chasing balls or soft plush toys, these toys will likely be a success.
You can enjoy these toys while playing with your dog or use them to keep your dog entertained while you're not around. Overall, these toys are good choices for those in search of great moving dog toys.