Lab puppies tend to go into overdrive when it comes to chewing. Chewing is how they first learn about and explore the world they live in, so it's a completely natural thing.
However, when they start teething, they start to have more of an urge to chew. It's almost as if it's an obsession for them.
Again, it's a completely natural urge that they have, especially since they will have inflamed and sore gums with new adult teeth breaking through and only finding relief when they chew on something to soothe the pain.
During the teething stage, many pet owners start to see their Lab puppy start destroying furniture, chewing on remotes, furniture legs, shoes, and more.
Remember that if your puppy gets away with something like this, it can lead to a rewarding situation which could easily turn into a lifelong habit because they start to seek out that reward time and time again.
Your job as a puppy owner is to manage the chewing situation. You should be supervising and intervening when your Lab starts to chew on your things and point them in the direction of appropriate toys that they can play with instead.
With so many different types of chew toys out there, how do you know which ones are the best for your Lab puppy? In this article, you'll learn about 12 of the best chew toys for Lab puppies that you can find on the market today.
KONG is a leader in the dog toy industry because they make a variety of toys that are known for their entertainment and durability for dogs and puppies.
KONG toys are made from long-lasting rubber that is designed to last for years, even with the constant chewing that they might receive.
While they aren't indestructible, it's very uncommon and difficult for a puppy to tear anything off for it to become a choking hazard.
However, you must make sure that you are purchasing the correct size for your dog (large for Labs and other large breeds).
Pros
Made from tough, durable rubber which is safe for your Lab to chew on and will outlast aggressive chewers.
Hollow, so you can stuff treats or peanut butter into the hole and then freeze to keep your puppy occupied for hours as they try to get the treats out. Plus, the cold will help soothe their inflamed gums.
Because of that uneven shape of this toy, it has an unpredictable bounce which adds more entertainment to a game of fetch.
Cons
If this toy isn't stuffed with treats and is overused, some puppies grow bored of this toy because they can't rip it up and it makes no noise.
The Goodie Bone is incredibly tough and resilient and is made by the KONG company.
While it might be a tad bit too large for younger puppies to carry around, but they will still love chewing on this bone.
The shape of this chew toy gives your puppy a better chance to grip the toy and to start chewing, whereas other toys might be difficult for your puppy to tie down. This aspect alone is a huge bonus.
The standout feature of this KONG Goodie Bone is that you can stuff treats in each of the ends of the bone to occupy your puppy for hours.
Pros
Made from KONGs famous hard-wearing rubber, so it's safe for even the toughest of chewers.
Can be left in your puppy's crate – it's that safe!
An interactive toy that can be frozen and stuffed to keep your puppy busy for hours.
If stuffed then frozen, it can relieve some of the pain your Lab is experiencing with their inflamed gums.
Cons
Again, made from such tough material that it can't be destroyed, nor does it make any noise or squeak, so if overused your puppy can grow bored.
Edible doesn't mean soft and weak, and these chicken-flavored teething rings prove that edible can also mean long-lasting and tough.
These teething rings are also available in pumpkin flavor, but the chicken flavor is the one that most puppies love.
Pros
Easy for a puppy to hold in place while chewing.
The light and fun shape that's easy for your puppy to carry around.
Low fat and gluten-free.
It is fortified with Omega 3 fatty acids.
Cons
It can be chewed down to small pieces, so you should supervise your puppy when chewing this teething ring, so this treat doesn't become a choking hazard.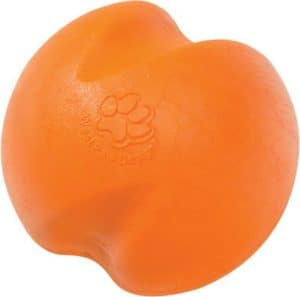 This ball is designed to have an unpredictable bounce that will make your dog crazy with excitement.
You might even notice that it ignites their innate drive and fire for "chase." It even fits into a Chuckit Ball Launcher that will give your dog a workout.
The Jive Zogoflex ball is made in Bozeman, Montana, and the manufacturer stands behind the construction of this ball with a 100 percent money-back guarantee.
Another great feature of this ball is that the colors will stand out in nearly every situation, which makes it, so you won't lose it as easily.
Pros
The grooves of this ball give it a wacky bounce that your dog will love
Made from an exclusive material that makes chew therapy, tug of war, and fetch much more fun.
It is made from 100 percent recyclable, BPA-and-phthalate-free, non-toxic, and FDA-compliant.
Easy to clean and sanitize.
Cons
Some buyers say that the ball is too heavy and doesn't bounce as well as is advertised.
This ball is designed using a knotted rope, that will be a long-lasting toy for your Lab for only a couple of dollars. While it doesn't have any flavor or squeakers, many dogs still love chewing on this knotted rope ball.
It provides a way to release pent-up energy and can also massage the sore teething gums while also cleaning tartar buildup from the chewing surface.
This Nuts for Knots ball is one of the best rope toys out there, even better than a knotted bar rope which can turn into a game of tug of war games – which aren't recommended for puppies.
Most buyers were satisfied with the long life of this ball, but if your puppy is a heavy chewer, it might not last as long for them.
Pros
Puppies will love sinking their teeth into this ball
Tough construction
Fun to fetch and chew
Durable and colorful
Keeps puppies entertained for hours
Cons
The medium size of this ball can be too large for puppies to play with
The Nylabone Key Ring Bone is designed to give your Lab puppy a great object to chew on.
All of the keys have texture and feature different nubs and grooves to help alleviate some of the pain that they might be experiencing with their teething gums. The key shape of this toy helps your dog manage a good grip on the keys.
As with several chewing toys, you'll want to supervise your dog while they are chewing on this.
There have been some reports from buyers that the keys broke, leaving small pieces of plastic behind that could turn into a choking hazard.
You should inspect this toy regularly and get rid of it if it's showing signs of breakage or is too worn out.
Pros
Positive play and teaches your dog healthy chewing habits
Keeps your puppy happy, busy, and entertained
The ridges and nubs help to clean your dog's teeth
Vet-recommended
Cons
There have been some reports of keys breaking into small pieces
This is a natural and long-lasting edible chew that is made from lime juice, salt, cow milk, and yak. It's basically a hard cheese that is safe for dogs to eat and doesn't spoil.
This chew treat is made without preservatives, binders, gluten, or grains. They have a slightly smoky smell that will make your puppy like their chops from the moment you open this chew toy.
With this treat, your dog must persistently chew to soften the ends enough to be able to get off a little piece.
It's rare that chew splinters, but it can happen, so you should watch your dog as they chew on this toy.
Also, eating too much of these treats can cause stomach problems, so you might want to watch your puppy make sure they aren't eating too much of this treat.
Pros
Made from 100 percent yak and cow milk, salt, and lime juice
All-natural treat
Great for removing plaque and promoting oral health
Low odor and non-staining
Fully digestible
Cons
Can splinter into small pieces
Too much of this treats can cause tummy problems
Antlers are great chew toys for puppies because they contain plenty of naturally occurring minerals and feature a natural treat in the middle: marrow.
They're also great for puppies because they come as split antlers, which make it easier for small puppies to chew on, unlike full antlers.
Deer or elk antlers are a cleaner option for puppy chews, unlike rawhides of bully sticks.
Because they are a natural material, which makes them safer for your dog to ingest unlike plastic toys – but you should keep an eye on your dog while they're chewing on this antler. Some antler toys have been known to split into small fragments.
Pros
Last for a long time
No sticky, stinky, greasy mess on your hands or floor
A fantastic source of naturally occurring minerals
Small enough for puppy jaws
Cons:
It can break off into smaller fragments, which turns into a choking hazard.
This chew toy is made from non-toxic materials, so you can be sure that it's safe for your Lab puppy to be chewing on.
You can use this toy to play fetch, or you can put treats in the center.  It also floats! This is perfect for dogs, like Labs, who love to swim.
The West Paw Tux Dog Chew is designed to be incredibly durable; people have bought this toy for avid chewing breeds (like Labs) and have been surprised that the toy lasted past the first day – some even say it lasted for months!
West Paw is sure that their toys are durable that they back this toy with a replacement guarantee.
Pros
Durable
Made in the USA
Made from non-toxic materials
Can be filled with treats
Cons
Not designed for aggressive chewers or destroyers.
Designed to be an enjoyable shape and flavored with either peanut butter or real bacon.
Puppies will love chewing on this toy because it's easy for them to hold down and chew on.
Plus, it's made from durable materials that won't break off easily, making it safe enough to place in their crate.
Pros
Durable
Easy for your puppy to hold down
Flavored with peanut butter or bacon
Strong enough to be left with your puppy unsupervised
Made in the USA
Cons
Made of nylon, which can be a little harder than other chew toys
Not an edible toy
You get three different types of bone-shaped toys in this package, so your puppy will have plenty to chew on.
There is even an edible chew that will provide a savory, tasty treat; the other two are teething bones.
These bones aren't completely indestructible and aren't two of them aren't designed to be ingested.
You might want to supervise your dog while they are chewing on these toys to make sure they don't break off any parts and ingest them.
Pros
Comes with three different bone chews
Durable and entertaining
There is an edible treat
Gives your different dog bones to choose from
Cons
Two of these bones aren't designed to be ingested
Large dog breeds will have this bone gone in no time at all, but for puppies and smaller breeds, this is a great chew toy choice.
The Lamb and Apple flavor is the most popular choice for these bones, especially since the sweet potato flavor can lead to staining on your carpet or pet's fur.
How fast your puppy eats these treats depends on their chewing habits. Some buyers have been disappointed that these chews don't last very long: the very reason these are only recommended for puppies.
Pros
Made from natural ingredients
No added salt, artificial flavors, or sugar
Enhanced with vitamins and minerals
Gentle enough for puppies at least three months old
Cons
If your dog is an aggressive chewer, these treats will be gone in minutes