Leash pulling is a sign that a dog that needs training. Whether it's poor leash etiquette or some other behavioral issue, there are certain factors to weigh before purchasing the no-pull harness that performs best for your demands.
After understanding your dog's needs, you can compare other features that harnesses have to offer to determine which is most likely to solve your pulling problem. But, what should you look for in a harness, and which brand can you trust? Read on to find out.
Consider this if your dog pulls
Dogs find their bearings in their legs, grounding themselves when defensive and propelling themselves when charging. Those strong legs help to pull against any force that tries to retain them.
The stability they maintain in their legs feels almost impossible to pull against, so harnesses that clip near the front end of the dog is ideal. You can easily distract an aggressive puller from its target with a harness that redirects its entire head or body.
According to hillspet, you should think about the following before buying a harness:
Clip Placement 
Dogs are directed by their heads and torsos. If you want a dog to change direction, you must change where its focus is. Harnesses that clip in the back are just as useless as a standard collar for aggressive pullers, so aim for the front.
Fitting
Take measurements of your dog to ensure a proper fit. Harnesses can be too long, short, tight, loose, heavy, or light for your breed. Sizing changes for youthful dogs as they grow in length, width, and height.
Material 
Constant pressure and friction against the skin of a pulling dog is not enough to deter it from pulling, but it is enough to cause rashes, sores, balding, and even infections.
Durability 
Though your dog should be comfortable in its harness, you should also focus on the lifespan and overall durability of its components. Buckles, adjustments, rings, fabrics, and stitching should be made up of harder materials that last.
Owner Convenience 
Many companies sell products in assorted styles that suit your fancy as well as your dog's. Options such as safety features, reflective webbing, and extra clips or handles are there to fill your dog-walking preferences.
Where is the leash clip?
A directional shift is most easily accomplished with harnesses that give you control of the dog's head or the front of its body. When a dog sees something worth bolting for, changing the direction of its momentum is the best way to avoid accidents.
The Halti Head Collar
This innovative design is a harness meant for a dog's head. By turning your dog's head away from the stimulus, you are both eliminating the visual distraction and changing the direction of its walk.
This style of harness is available for all breeds and sizes – even those with shorter snouts! It's useful in any environment, as well, so you can take your pet on hikes or down the block without the need to switch walking methods.
If you're worried that your dog will slip out of this harness, Halti and other similar brands include an extra clip that attaches to the dog's standard collar. Though the predicament would be rather awkward, it's a nice safety feature to have just in case.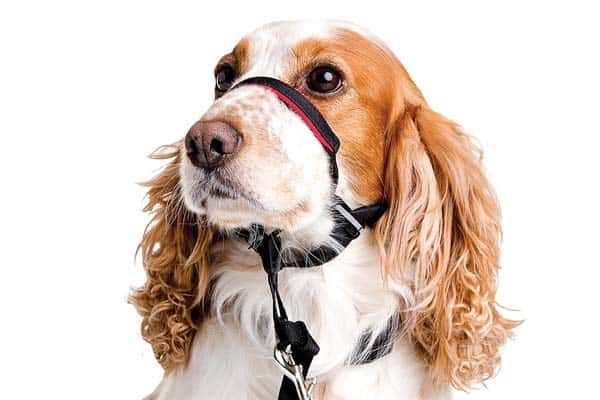 JUXZH Harnesses by RenPing Zhu
Dogs get their momentum from their powerful legs and solid core, so pulling in the opposite direction of their force only makes things hard for you. The front of a body harness is where the clip needs to be if your goal is to cease the pulling.
Just as the comfort of a harness may alleviate neck strain, back clips are suspected to promote the pulling behaviors we dislike just as well. Together, the structured security offered by a back clipping harness could make it more fun for dogs to pull.
Having a clip on the front of the dog's body gives you control of its directional movements. However, depending on the temperament, trainability, and stability of your dog, you may opt for a standard harness with a back clip.
Sometimes they're best for recovering or senior dogs who could become injured if you throw off their balance by misdirection.
JUZXH offers a small assortment of quality body harnesses with front and back clips for your convenience. They range in sizes to fit all breeds and remain a solid, affordable price.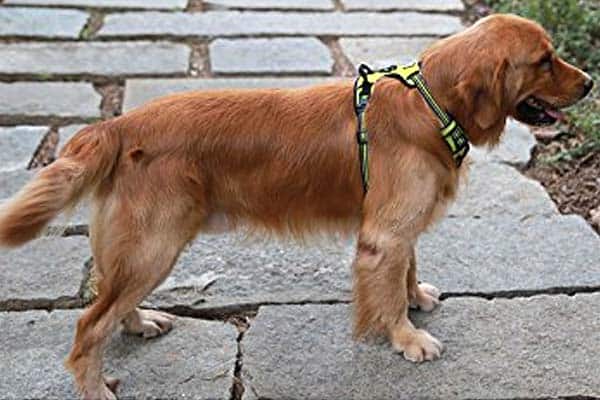 Ondoing's No-Pull Dog Vest
A dog that doesn't pull remains at your side or behind you, allowing you to lead the way. Unfortunately, impulsive dogs will jerk in front of you, leading to the frustrating entanglement of the leash around its legs.
This occurs often with front-clipping harnesses, and while some would rather trip up their pooch than being dragged by it, many owners might want to avoid it. Therefore, some companies, like Ongoing, now design comfortable harnesses with side rings.
The idea is essentially the same as a front clipping harness, but it leaves the length of the leash at your side or behind you, where your dog should be. If the dog pulls, you guide it away, throwing off its balance and causing a lax in the pull.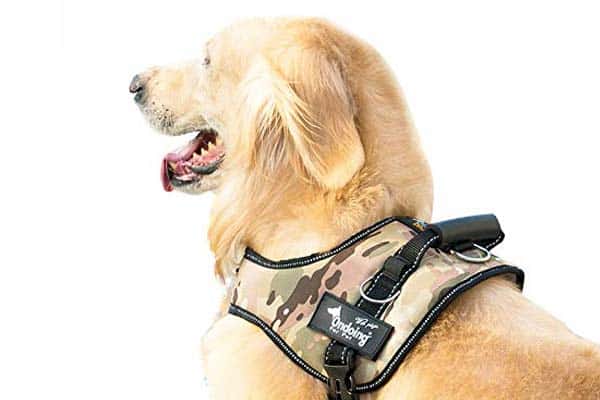 Consider the material
There are many self-proclaimed no-pull harnesses that simply don't work. This is because they're designed with human comfort in mind instead of a dog's behavior and physique.
Is the fabric too rough, too thin, or too fancy for performance? You don't want to buy something cutesy that's labeled a no-pull product if the print rubs off or the stitching is weak. Items made from thinner, weaker materials are made for dogs that don't pull.
While the harness doesn't have to be expensive, beware of cheap purchases being cheaply made. Similarly, beware of fabrics that are industrial strength all-around as they're more likely to cause discomfort in your dog.
Just as nylon collars can rub a dog's neck raw, so too can a harness. Even a head harness should have some padding so it doesn't rub the fur from the snout.
Hillspet.com suggests that short-haired dogs would benefit from the padding of a harness; however, even a dog with long fur would appreciate the protective cushioning that keeps tough fabrics from tugging at those locks.
If you're in the market for a no-pull harness, chances are you're dealing with a real problem that cannot be fixed with a designer harness. Even if you have a 4-pound toy breed, bad leash manners is a challenge that can become worse with the wrong tools.
Consider the size
The ThunderLeash by ThunderWorks
Gems like this leash-harness-combo make things easy when it comes to sizing. The leash clips onto your dog's standard collar and can be used as is or as a harness. To do so, you simply wrap the leash around your dog's rib cage and hook it onto the protruding clip.
It tightens around the body to simulate the feeling of being restrained (much like the holding position at a veterinary office). Take heed that the downfall to this particular harness is twofold.
The harness attachment doesn't lock into place, so if your dog backtracks, the "harness" may come undone, returning to a regular leash that's now wrapped around your dog. It's also all-nylon, so there is no padding for comfort under the legs.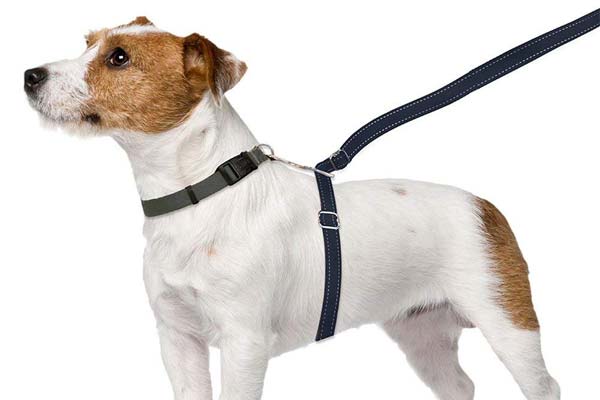 Be advised that it's best to try before you buy. If you haven't collected your dog's measurements, you can try on different harnesses at the pet store. For online purchases, you can learn how to properly measure your dog from this YouTube video by Top Dog Tips.
After you measure, do a thorough investigation of the many styles of harnesses out there. Be sure to look into the customer reviews as well as the brand's original site.