Most Labrador Retrievers love to lounge. They want to be cozy and have plenty of room to sprawl out. Labs are usually large dogs, and most of them don't curl up into a ball to sleep, but rather lay flat on their side with their legs extended or slightly bent. Whichever position in which your dog sleeps, try to do everything you can to make it as comfortable as possible for them by buying the best dog bed.
When a dog gets a good night's rest, they will be more willing to exercise, play, and learn. Lots of sleep will also reduce any stress that they have, especially if they recently moved in as your new pet. If your lab likes the bed you got him at the beginning of the relationship, try not to switch it up, if possible.
When dogs get attached to things, it gives them a sense of where home is; that is something that you don't want to take away. Give them the best dog bed you can afford.
Finding the Best Dog Bed for Lab
When you talk about buying the best dog bed for a Lab, it comes down to common sense. You should look for a dog bed that is comfortable, durable, and stain-resistant. Of course, if you have a dog that likes to chew on everything, any type of dog bed that you buy will not last long. Fortunately, there are some pet brands that design beds that can withstand the gnawing teeth and overwhelming amount slobber that your dog produces.
If your dog has any back, knee, or hip problems, there are also plenty of bed options that have a special type of padding called orthopedic memory foam. This orthopedic foam has a unique structure that gives support to your dog while they are sleeping on the bed.
For a Labrador, you will need to find a large dog bed. Most of the dog beds that are available in the store have a larger or jumbo size option. If you are able to find a jumbo-sized dog bed, that will be best for a Labrador. Even if your lab is a puppy, they will grow into it fast.
Specifications
Dimensions: 40 x 25 x 6" (large size)
Waterproof
Orthopedic memory foam
Washable cover
Sizes: medium, large(pictured above), XL, XXL, and XXXL
Colors: grey with pink trim, grey with blue trim, grey with orange trim, brown plush, grey plush (pictured above), grey with black trim, and brown with brown trim
Information
It is always disheartening to see a dog struggle for comfort during the night because of a physical condition such as hip dysplasia or arthritis. It pains you as a dog owner to know that they are suffering, and you will do anything to help them through it.
If getting a new dog bed is the way you can help to ease their pain a bit, then consider buying this orthopedic dog bed by The Dog's Bed. It's made of high-density memory foam with a solid base underneath for extra support. An extremely fluffy dog bed is not always best for dogs who have these types of ailments.
Also, if your dog has arthritis or another problem because he is in his older years, you might also be dealing with their bladder incontinence. As some dogs age, they begin to have a hard time holding their bladder while they are asleep.
In that case, you will need a dog bed that is easy to clean. This bed has a removable cover that you can pull off and throw into the washer for quick cleaning. It is waterproof, so you won't have to worry about urine soaking through the cover and into the foam padding.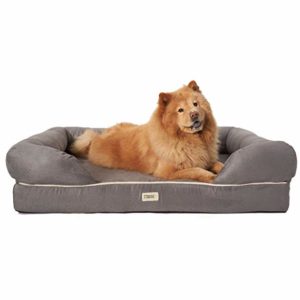 Specifications
Suede cover
Memory foam mattress
Poly-fill pillow barrier
Sizes: small, large, XL, and XXL JUMBO (pictured above)
Dimensions (XXL jumbo size): 40 x 50 x 13"
Water-resistant
Supports up to 130lbs
Machine-washable cover
Non-skid bottom
Colors: cocoa, khaki beige, pewter (pictured above), and Vanilla
Information
The material on this dog bed is very soft and fur resistant. Of course, there is no way to prevent one hundred percent of all dog hair from sticking to the bed, but this one does a decent job at keeping most of it away. If some hair still gathers in the corners, or if your dog likes to slobber a lot, it is super easy to clean.
Like the first dog bed mentioned, this one also has a removable, washable cover. Both the cover and the metal zippers attached to it are durable and can resist even the toughest dogs.
One of the best features of this dog bed is the slip-proof bottom. Dogs love to make a mess, whether it is by tipping over their water bowl, leaving toys all around the house, or stashing half-eaten bits of food under the couch; the worst of all is when they push their dog bed out of its place and into the middle of a walkway. This dog bed will eliminate at least one of these common pet problems.
Specifications
One size – Jumbo
Color: slate grey
Dimensions: 50 x 36 x 10"
Two edge pillow supports
Orthopedic memory foam
Waterproof liner
Microfiber cover
Information
The Laifug dog bed is the best bed for Labs who are large for their breed. This bed has a large surface area, which gives your Lab plenty of room to stretch out. It also has two small pillows supports on either end for added support. The memory foam mattress supports dogs who are at a weight of 200lbs or below.
Any heavier than that and the bed would flatten substantially. If your dog is too heavy, the bed can still function, it just won't be as comfortable because of the reduced amount of padding.
Specifications
Steel frame
Colors: Brunswick green, terracotta, grey (pictured above), and nutmeg
Sizes:
Small – holds up to 50lbs
Medium – up to 75lbs
Large (pictured above) – up to 100lbs
Dimensions: 51 x 31.5 x 8"
Information
Although they are different, elevated pet beds are a great alternative to regular pillow dog beds. There may not be as much cushioning on the elevated bed, but there is an increased airflow. This type of bed is ideal for dogs who get hot easily or that live in a warm climate. You can use an elevated pet bed indoors or outdoors, which is helpful if you have a Lab because most Labs love to be outside. This could be the best dog bed for your lab.
There are a few sizes to choose from; the largest size is the best dog bed for labs. You might be concerned about the weight limits since the bed is suspended on a metal frame. Don't be too worried; the steel frame is very stable. Listed in the specifications list above is the weight capacity of each size of the bed that is available. It supports most dogs, no matter their weight and height.
Specifications
Comes in gel foam, memory foam, or orthopedic
Sizes: small, medium, large, and jumbo
18 color choices (pictured above is the Orion blue)
Dimensions (jumbo size): 44 x 35 x 8" with a 4" foam base
Information
As you can see above, this Furhaven dog bed is available in three types of padding – gel foam, memory foam, or orthopedic. Gel foam creates a nice cooling effect, but it is not a good idea to have a gel foam mattress if your dog likes to chew through things since the gel isn't safe for ingestion. A good alternative is the memory foam, and for dogs who need extra support, go with the orthopedic mattress.
This dog bed has a pillow support barrier that goes around three sides of the bed, which provides some extra cushion for your dog's head if they need it. Some dogs like to lay flat, but others like to stretch their legs and head out. The size you choose for this bed will help with space as well. If you have a lab, you should most certainly buy the jumbo size.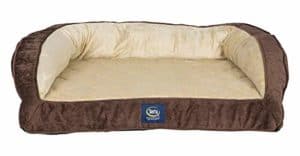 Specifications
Sizes: Small and large
Dimensions (large): 34 x 24 x 8"
Made with 100% CertiPur orthopedic foam padding
Removable cover with zipper
Non-skid
Information
You may recognize the name Serta. Serta is a well-known mattress company; they primarily make mattresses for humans, but they also make pet beds. Since they're considered an expert in mattresses for humans, you can be assured that their dog beds are well above average.
This is another orthopedic type of mattress. Orthopedic padding is always a great option for maximum comfort and relaxation for elderly dogs.
There are not many size options for this pet bed, but the large size will fit your Labrador comfortably with extra room leftover.
Specifications
Dimensions: 40 x 28 x 6.5"
Polyester fiber padding
The suede fabric around the edge
Flat with no edge barrier
Sizes: small, medium, and large
Colors: brown or khaki green
Information
Dog beds that have a high pillow around the edge can make it exceedingly difficult for certain pets to climb onto the bed; usually, because they are either too small to climb over or they are physically incapable. Labs are big enough to climb over an edge like that, but if they're injured, it will be tough. This Frisco Pillow Bed Mat doesn't have these raised edges, so there is more room for your dog to lay and no issues created for dogs who are partially immobilized.
The simple look of this dog bed coordinates with any furniture set up; it is plain white on the top with an accenting brown edge. You also have the choice of khaki green, which is a simple design as well.
It is very cushioned, like a giant pillow. It's not memory foam like the other dog beds, instead, it has a polyester filling. So, it's not firm, but it is cozy.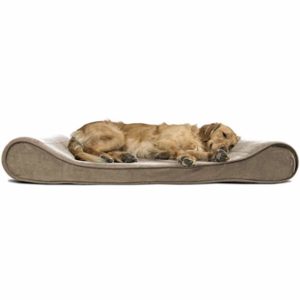 Specifications
Micro velvet
Options for orthopedic, gel, or memory foam
Sizes: medium, large, jumbo, and 2XL
Color: clay, espresso, or gray
The cover is removable and machine washable
Information
This Furhaven micro velvet dog bed is soft and shaped for maximum puppy relaxation. This bed is neither flat nor has right angle edge barriers along the edges. Instead, it is flat with a slight curve upwards on two ends. This shape has more of a natural feeling for your dog since the sides only gradually extend up; providing support and preventing awkward sleep positions from happening.
Labs, like any dog breed, have their way of situating their bodies into the weirdest positions when they're asleep. Most of the time, this has no effect on their wellbeing, but over time, it can cause long term joint pain and back problems. This bed helps prevent either one of those side effects from ever occurring.
Best Overall Dog Bed for Lab
Best dog bed for elderly Lab dogs: The Dog's Bed Orthopedic Premium Memory Foam Dog Bed
Best dog bed for Labs the love to lounge: Friends Forever Orthopedic Dog Bed Lounge Sofa
Best dog bed for Labs: The Dog's Bed Orthopedic Premium Memory Foam Dog Bed
It's not hard to find a dog bed for a Lab; it just needs to be large and comfy. However, it is hard to find the BEST one. There are so many colors, fabrics, and padded filling options to choose from, and they're all good for different types of dogs.
Use the information in this guide to the bed dog beds and follow your instincts; you will find the right one.