"You are what you eat" is as true for our four-legged friends as it is for us. With so many food options out there, however, it can be difficult to choose the best one for your dog.
While every dog is different, if you have an active dog, high-protein food might the best choice for them.
Why Choose High-Protein Dog Food?
Active dogs use much more energy than their couch-potato counterparts, and as such need food that's going to provide them with higher levels of protein.
According to Dr. Stephanie Liff of Pure Paws Veterinary Clinic in Brooklyn, New York, higher levels of lean protein in a dog's diet will allow them to build lean muscles and have a healthy coat.
As your dog runs and plays, they metabolize and form new protein in their muscles in a process called protein turnover.
They need high levels of dietary protein in order to retain a healthy muscle mass and stay fit. Without it, they can become lethargic and sick.
Foods with higher levels of protein are usually also much lower in carbohydrates, which are only minimally necessary in a balanced canine diet and can, in fact, have detrimental effects on your dog's health in the long run.
How Much Protein Do Dogs Need?
The exact level of protein your dog needs is highly dependent on their health, age and activity level. For example, puppies and pregnant dogs will need a minimum of 30-35% protein in their diet, much more than what an adult dog requires.
An active adult dog needs a minimum of 25%. The more protein they eat, the more energy they'll have to play!
Protein is very calorie-dense, so high-protein diets are best suited for active dogs. Adult dogs that live more sedentary lifestyles will actually begin to put on too much weight when fed protein-rich food. If your dog isn't getting daily exercise, it might be best to opt for a weight-management diet.
High-protein diets can also worsen certain health conditions, such as kidney disease. If your dog is suffering from any diseases, make sure you talk to your vet before springing for the high-protein kibble.
What's the Best Kind of Protein for Active Dogs?
Not all proteins are the same, so it's important to carefully analyze exactly what is going into your dog's food bowl.
Although a dog's digestive system has adapted to be able to digest both animal and plant protein, there are many benefits to feeding active dogs high-quality meat-based proteins.
Animal protein-rich diets will fuel the growth of strong and healthy muscles in your dog. Without enough high-quality dietary protein, your dog's body would begin to break down the protein in their muscles without being able to replace it, leading to a decrease in muscle mass and an overall disruption of their bodily functions.
Good quality animal protein will also greatly boost your dog's immune response, as their digestive system is designed to eat moist, meat-based foods.
High levels of starches and processed carbohydrates in a dog's food can eventually lead to diabetes and obesity, just like in humans.
A strong immune system and a well-functioning metabolism will promote a shiny, healthy coat and skin. A dog's appearance is a reflection of their health, and a high-quality protein-rich diet will ensure that your pup is getting all the right nutrition it requires.
Plant-based proteins, like peas and lentils, are fine in moderate amounts but shouldn't account for the main source of protein in your dog's diet.
It's important to look at the first three ingredients in your pet's food. Ingredients are listed in volume order, with the most abundant ingredients listed first.
These crucial ingredients should include at least two sources of quality animal protein, like chicken and lamb, instead of plant proteins.
Our Top Picks for High-Protein Dog Food
To help you choose a great food for your active dog, we've compiled this list of the top 5 high-protein dog foods available online.
5. Rachel Ray Nutrish Peak – Grain-Free Open Range Recipe
A great 30% minimum guaranteed protein dry food, this meat-rich formulation uses real U.S.-raised beef as the first ingredient, followed by a nutritious chicken meal.
This recipe also includes real venison and lamb, chicken fat and Menhaden fish meal as part of its animal-protein rich formula.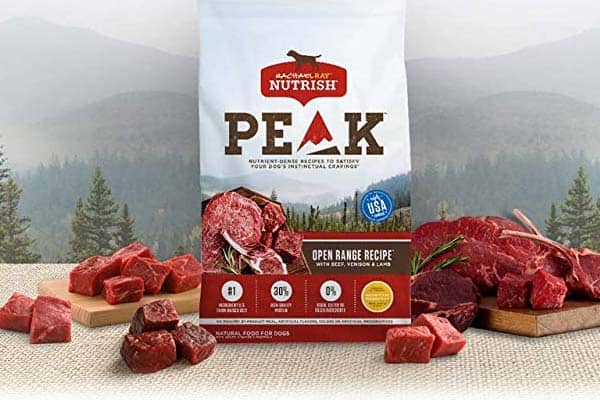 Pros
Made with real U.S.-raised beef, chicken, and turkey
30% protein
No grain, gluten or filler ingredients
Cons
Only the first two ingredients are animal-protein
Large kibble pieces can make it difficult for some dogs to comfortably eat
4. Blue Buffalo Wilderness – Grain-Free Rocky Mountain Recipe
Made with deboned chicken and chicken meal as its top two ingredients, this grain-free food boasts 30% minimum protein.
It also includes deboned beef, lamb and venison, along with antioxidant-rich fruits and vegetables. Blue Buffalo is made with real ingredients and doesn't contain poultry by-product meals, artificial flavors or preservatives.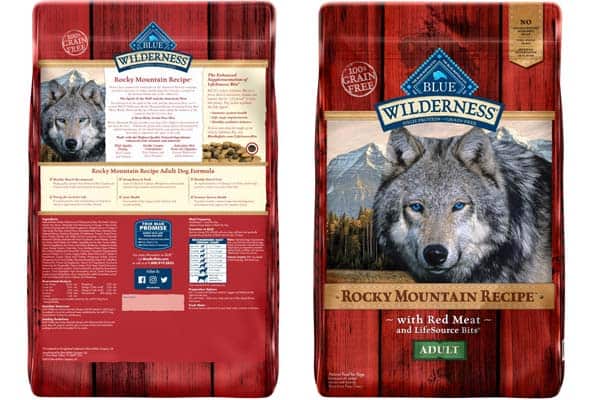 Pros
Protein-rich, evolutionary canine diet with lots of quality meat sources
Grain-free and supplemented with vitamins, minerals, and antioxidants
No poultry by-product meals, corn, wheat or soy
Cons
Only the first two ingredients are animal-protein
Transitioning to this food can cause softer stools in some dogs while their bodies adjust to the higher-protein levels
3. BullyMax High Performance – All Life Stages Super Premium Chicken Blend
This high-protein and a high-fat recipe is great for very active dogs and contains 535 calories per cup and guaranteed analysis of 30% minimum protein and 20% minimum fat. With chicken as the first ingredient, this food ensures your dog looks and feels his best.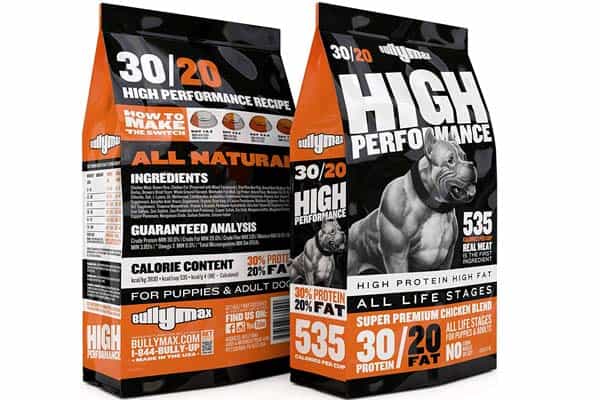 Pros
High-protein, high-performance dog food
Perfect for bulking up your dog
Great for puppies and adults
Cons
High-fat levels can make a sedentary dog overweight
Dogs have to exercise hard to see muscle gain
2. Crave Salmon & Oceanfish – Grain-Free Adult Recipe
Containing an outstanding 34% protein, this nutritious, grain-free recipe is perfect for all the seafood-loving dogs out there.
It's made with real salmon as the first ingredient and doesn't contain any by-product meals or artificial flavors. Crave also makes beef, chicken, and lamb and venison versions of this protein-rich diet.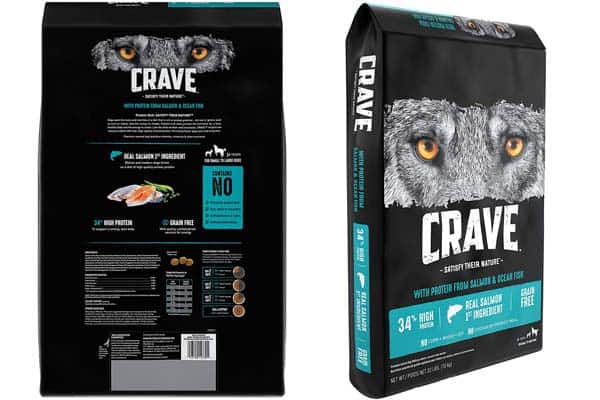 Pros
Incredibly high protein levels – 34%!
Made with real animal protein
Wild-based, evolutionary diet
Cons
Only the top two ingredients are meat-based
All varieties include chicken – not good for dogs with chicken allergies
1. Taste of The Wild – Grain-Free High Prairie Canine Recipe
True to its name, this Taste of The Wild recipe uses real pasture-raised roasted buffalo and venison as its first two ingredients and chicken meal as its third.
With a guaranteed analysis of 32% protein, the High Prairie recipe is perfect for highly active adult dogs.
Containing species-specific probiotics and all the fatty acids, antioxidants and micro-nutrients your canine needs, Taste of The Wild is our top pick for high-protein food.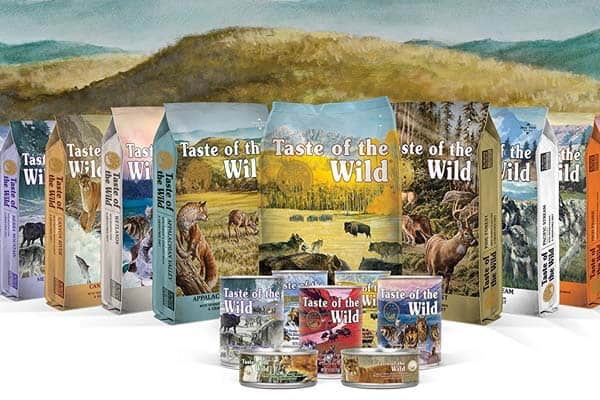 Pros
Top 3 ingredients are high-quality animal protein!
34% minimum guaranteed protein
Rich in probiotics that dogs can use
Cons
Transitioning to high-protein foods can cause loose stools in some dogs