You might not like it but every now and again you are going to have to leave your puppy home alone for a short period of time. Maybe you are off to work or just decided to pop by the neighbors for a quick second. Either way, for both your puppy's and your house's safety, it's often best to have a safe space in which you can leave your dog. Like a crate.
What Can You Leave in Your Dog's Crate?
This is a common question with most new dog owners and experienced ones alike. People want, and really should, know what is safe to leave in your dog's crate to ensure that they are entertained and not lonely. So what can you leave there? We are going to cover all that and more.
How to Safely Outfit Your Dog's Crate
Outfitting your dog's crate will depend on a couple of things:
How big is the dog in general?
How used they are to being left in their crate.
It's important to understand that every situation is slightly different. The kind of toys and accessories you can leave with a puppy aren't the same that you would typically leave with a fully grown adult dog.
Additionally, the kind of toys and essential you can leave with a dog that is already familiar with his or her crate is not entirely similar to the kind of essentials you can leave with a dog that is just getting introduced to their crate.
That being said, here are some insights on how you can safely decorate your dog's crate to ensure that they are not lonely when you leave:
1. Buy the Right Crate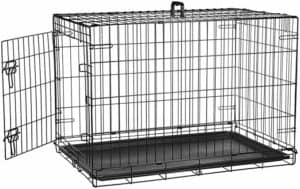 The very first thing you need to do is get the right kind of doggy crate to leave your furry friend in while you are away. One of the best crates out there is the Amazon Basics Single & Double Door Folding Metal Crate for several good reasons:
It comes in many different sizes (from 22″ – 48″)
You can choose between a single or a double door crate
It can fold flat thus making it very easy to transport
It has an optional divider panel so you can gradually increase the size of the same crate as your dog gets bigger and has more toys
Best of all, however, is the fact that it's durable, affordable, and simple to set up. Also, the crate is made out of heavy-duty metal that is covered by black paint. This is necessary because, for the most part, your dog will try to chew his/her way out of the crate in the beginning. This heavy-duty metal discourages that behavior.
2. Get the Right Kind of Bedding for the Crate
Generally speaking, it would be nice if your dog had something comfortable in the crate on which to sleep. This isn't to keep him entertained per se but to ensure that they don't get stressed and anxious (which would open up a whole different kettle of fish). Now, there are several things you can keep in the crate in terms of beddings and what those things are will depend on the kind of dog you have:
Young puppies: These need something that is comfortable, waterproof as well as chew-proof. This will also need to be easy to wash. You could try the K9 Ballistics TUFF crate pad. This works best with puppies as well as adult dogs.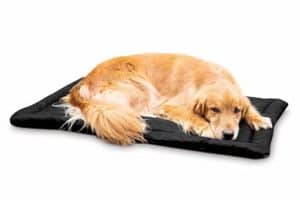 Adult dogs: With these dogs, the main aim is comfort as the chew-proof aspect of things, nor the waterproof issue doesn't come much into play. It does, however, need to be easy to wash and durable. In this case, you could go with the Hugglefleece Dog Mat. It's comfortable, durable, and machine washable.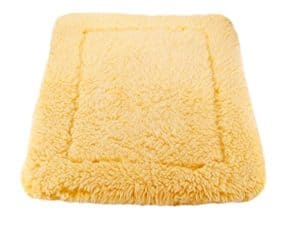 Senior dogs: In this case, you don't need to worry much about the chew-proofness of the type of bedding you get. It will, however, need to be comfortable (orthopedic even), waterproof as these dogs tend to wet themselves more and easy to wash. You could try the K9 Ballistics Chew Proof Elevated Dog Bed. This is durable and easy to wash.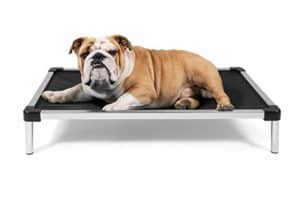 3. Get the Right Toys for Your Dog's Crate
Now, these are purely for the sake of keeping your dog entertained while they are in their crate. Without any toys, for him or her to play with, your dog will go ballistic with boredom and might even get very destructive.
As such, it's important to find them the right kind of toy. That being said, not all crate toys are created equal, and your dog might not accept all of them. It's a matter of trying them out to see which one works best. Here are some options you can consider:
Stuffie toys: These are only meant for mature dogs that are not serious chewers. If you have a serious destroyer on your hands, then there really aren't any stuffie toys that could work. However, if you have a dog that can be considered an "inhaler" or maybe just a "nibbler", then you could get them a few stuffie toys such as the octopus or fox from HuggleHounds Corduroy Knottie dog toys.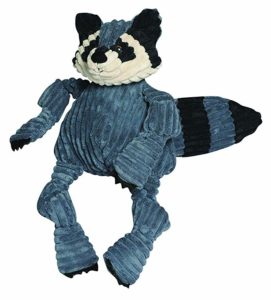 Puzzle feeders: These are technically some of the best crate toys out there for your dog. There are several good reasons why you should consider getting puzzle feeders for your pup. They are interactive, they are sturdy enough when chosen correctly, and they can be used as food dispensers for treats. Because they are tough, these toys are best for dogs of all ages and temperament. You could try getting your puppy the WestPaw Toppl. You can buy several of these puzzle feeders and have them all in the crate at the same time to keep things exciting for your pup.
Try to avoid leaving things like the dog's collar or tags in the crate. Apart from the fact that your dog should ideally go naked when in their crate, these cords can create a strangulation hazard should they get snagged on the bars of the crate?
It also not advisable to leave food and water in the crate mostly because of spillage as well as the increased need for a "bathroom break."