Most dog owners like you have trouble trying to keep all of their dog's toys organized and in one place. But they are not the most successful when it comes to keeping their house free of random chew toys dispersed about.
Because of this, you're advised to purchase a dog toy box to keep all of your dog's toys in and to keep your house remaining clean. But finding the right dog toy fox for you and your dog is also a difficult task without the right information.
Why do you need a dog toy box?
Having a dog toy box in your house will not only make your life easier but also your dog's life easier as well. Regardless of what type of dog you have, all dogs love and practically need to have toys to play with in order to remain in a healthy state both mentally and physically.
Since your dog needs toys to play with, you'll need to have a variety of them to play with, and this can lead to a giant mess that you will have to constantly clean up.
With a dog toy box, you can easily clean up your dog's toys and organize them into their toy box for their convenience as well as your own convenience.
Having dog toys laying around the house in almost every room not only makes your house look messy, but it also creates an unsafe and stressful environment, especially if you also have young children.
Having a dog toy box can prevent this from happening because you'll then have a place to put their toys without having to worry about the house looking messy or someone tripping over them and getting hurt.
Furthermore, having a dog toy box is also beneficial because it gives your dog an opportunity to learn how to clean up after themselves.
By having a dog toy box, you can potentially train your dog to pick up their own toys and put them away in their box by themselves, which saves you the hassle of having to waste more time personally cleaning your house.
Types of toys that your dog should have in their toy box
Aside from the actual toy box that you need for your dog, there are also a variety of toys that your dog should have as well. Different toys help them with being active and maintaining a healthy state, both physically and mentally.
Your dog should have toys for chasing because dogs love to chase things, and this helps them gain more muscle by running repeatedly.
In addition to this, your dog should also have toys for playing fetch with you because all dogs love playing fetch, and it's a game that they'll enjoy while getting physical exercise. Your dog has toys for tugging because tugging helps to keep their jaws strong.
Having tugging toys is also beneficial for you because it allows you to interact with your dog. Lastly, make sure that your dog has squeaky toys because this motivates your dog to play and exercise even when they don't want to.
What to consider when shopping for a dog toy box
Before you decide on a certain toy box to purchase for your dog, there are a few things you're advised to consider beforehand.
First, you should make sure that the toy box is the right size for the number of toys as well as the size of toys that your dog has.
The whole point of the toy box is to fit all of your dog's toys in them, so it wouldn't be doing its job if all of the toys didn't fit inside.
Additionally, You should consider the color and the design of the toy box. Some people don't mind this, but it is something to consider whether your dog toy box is matching the rest of your house decor or not. This consideration is just aimed at personal preference.
Lastly, you're advised to consider the price of the toy box. You don't want to purchase a toy box that's too expensive for the quality that it gives, but you also don't want one that contains a material that's too cheap and easily breaks within a short period of time. Find one that fits inside your budget while also giving off the best quality.
Best Dog Toy Boxes
1. Winifred and Lily Pet Toy Storage Bin
This storage bin is great for your dog's toys because it contains handles that make it easy to transport the bin wherever you need. Additionally, this bin also presents an embroidered printed texture that makes for an easy clean.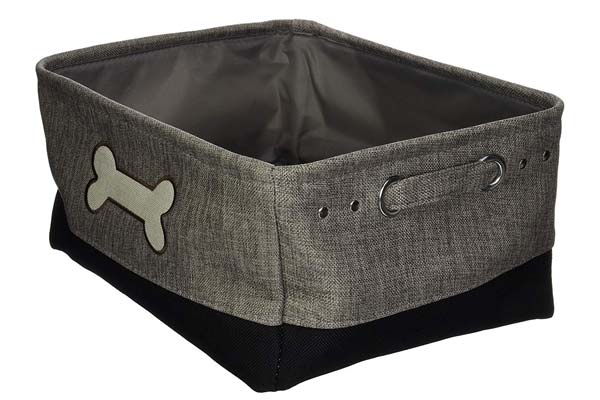 Pros
Easily transported
Durable and long-lasting
Cons
Not reliable for carrying heavy toys
2. Bone Dry Round Pet Toy Storage Bin
This storage bin is great for your dog's toys because it is made out of a polyester material that can easily be wiped clean.
In addition to this, the bin stands up by itself so the toys can easily be placed inside by either you or your dog.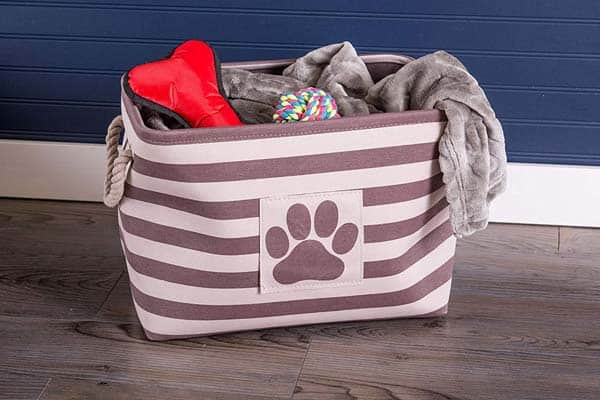 Check the prices on Amazon's Choice
Pros
Contains handles for easy transportation
Presents a simple design
Is larger in size to fit bigger toys
Cons
Contains a cloth material so it can easily be damaged
3. Woodlore Cedar Pet Toy Box
This toy box is beneficial for your dog because it is made out of a cedar wood material that gives your house decor an elegant look. Additionally, this toy box also makes your house smell like cedar instead of used dog toys.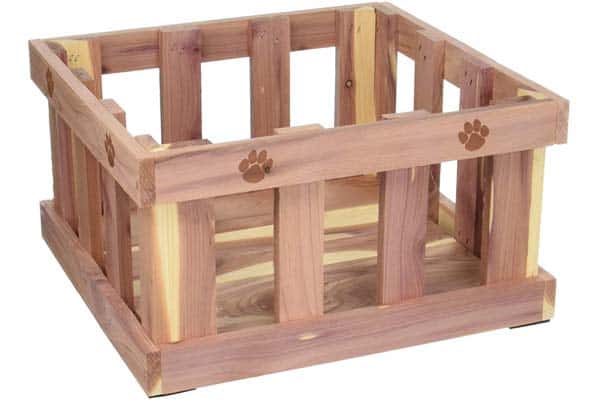 Pros
Cedarwood airs the dog toys out
Dogs can reach for their toys through the wooden slats on the sides
No assembly required
Cons
Spaces in between the wooden slats allow for smaller toys to fall out
The crate is smaller in size than the other toy boxes