Dog crates come in many shapes, styles, materials, and sizes. There are four main types of dog crates that you can choose between, such as wire, soft-sided, furniture, and plastic dog crates. Each of these styles is very different from the others and has its own unique look, but it's nice to have a lot of options to choose from.
Some crates, like plastic or furniture crates, are best for dogs who like to chew on everything. Other wire crates and soft-sided crates are for better-behaved dogs. The best-looking dog crates are furniture crates since they are solid painted wood.
Styles of Dog Crates
Wire
Soft-sided
Furniture
Plastic
Wire Dog Crates
Wire dog crates are the shape of a perfect cube, only a little longer going in one direction. They are made of a strong metal wire structure, and they usually have two or three latches of the same material.
The wire that makes the crate is thick, not flimsy. Most dogs can't break out of this type of dog crate, although some incredibly strong dogs somehow find a way to. In which case, you might need another type of crate.
Wire crates come in all sizes. Options come in anywhere from extra small to XXL.
How to Decide What Size of Crate You Need
The size of your wire dog crate should be large enough for your dog to lay down comfortably, plus a few extra inches. The rule of thumb is to measure from the tallest point on your dog's body to the ground, then add 3 to 4 inches to that measurement for an estimate of how big your dog crate should be.
For example: say I have an Australian Shepherd that is a fully grown 23 inches. The 23-inch measurement I have taken includes my dog's height all the way up to the tippy top of their ears (Australian shepherds' ears lay flat, but they are slightly raised from the top of their head, and they like to raise their ears sometimes).
So, I take that 23 inches and add about 4 inches, which makes 27. It's unlikely that I'll be able to find a crate of that exact height, but I can get whatever size is closest. You should find a size of crate that is closest to their height, but not smaller. For27 inches, you can use a 30-inch wire dog crate or larger.
You can use this sizing method for most types of dog crates, not just for a wire dog crate.
Besides 30 inches, the other common sizes for wire dog crates are 22, 24,36,42, 48, and 54 inches.
Frisco is a well-known brand for pet products. Wire dog crates are one of the items they carry. This is a double door dog crate, which means there is the main door on a small side of the crate with two latches, as well as a second door on a longer side of the crate. There are many size options for this crate, including 22, 24, 30, 36, 42, and 48 inches big. Of course, the price goes up with the size. Even if you buy the largest size, you won't spend more than $60.
The very bottom of the crate is flat, but there is room for padding if you want to make it more comfortable for your dog.
When it comes to wire dog crates of this size, more money will come out of your pocket. Most of the time, someone who needs a crate this big has a ginormous dog, but it is a great idea if you want to help your smaller pet feel more comfortable by giving them more space.
Since you most likely have a huge dog you will keep in this dog crate; there are three latches on the doors rather than two, which will hold better if they try to make an escape.
Soft-Sided Dog Crates
Soft-sided dog crates are much different than wire dog crates; the main structure of the crate is made from fabric rather than wires, with only a few wires sewn into the fabric to help hold the crate's shape.
Soft kennels have one or two screen doors that zip shut, and most soft-sided dog crates have a cover that rolls down over the door or the side window. The door cover gives your dog some privacy if they are trying to sleep with loud people around.
This type of crate is only a good idea if your dog doesn't have a habit of chewing through things. If you buy a nicer crate, it's unlikely that your dog will be able to get a good grip on the fabric, but cheaper crates can easily be ripped to shreds.
Soft-sided dog crates come in all sorts of colors. Most of the color options are natural earth colors like brown, green, tan, or navy blue. Some of the crates for small dogs come in brighter colors like purple, blue, or red. Smaller dog crates also feature a large handle on top for easy carrying.
Best Soft Sided Dog Crates
The sizes of soft-sided crates available are typically the same size options you would see for other types of dog crates, so you can keep the same measurement you configured before and apply it to this type of crate instead.
Keep in mind that some soft crates have a rounded top and the doorways are also smaller, which affects the overall size. Their windows range in size as well.
This Firstrax Petnation crate is one of the nicer looking soft-sided dog crates; it's also one of the better-quality ones. They are not expensive at below $50 for even the largest size of 36 inches. Other sizes include 20, 24, 28, and 32 inches; each one is cheaper than the next. The tan crate that you see pictured above is the only color that the Firstrax crate comes in, but tan and black match almost everything.
This crate only has one door on the front, but it also has three bone-shaped windows around the sides so that your dog can see the world while he's locked up. The windows will help when dealing with a dog who gets anxiety from being in a crate; soft-sided crates also make it feel less like a cage and more like a bed. Increase the comfort for them by adding a blanket or soft padding for them to lay on. The less it feels like a cage to your dog, the better they will behave.
Here is another Frisco dog crate; this time, one that is soft instead of wired. This crate is more expensive than the Firstrax crate above, but not by much. It has darker colors like blue and green, both with black accents. Sizes are in 21, 26, 30, 36, or 42 inches. This measurement is for the length of the crate, not the height, so you may have to look at the chewy website to see which size is best. They have a crate size chart that's very helpful as well that shows the exact dimensions of each crate as well as breed recommendations for each.
If you have a smaller dog like a miniature poodle or a chihuahua, this is the best crate for you to use. Most soft crates have a smaller size, but this crate comes in mini, small, or medium, so you have plenty of options for small dogs. It's also a good crate for traveling with a new puppy.
Puppies shouldn't be kept in a giant dog crate, especially when traveling, because they need to be snug and secure. Newly born puppies are very wobbly at first and need to be stabilized in a moving car.
This small crate can be used for camping outside since it comes with stakes that hold the crate down to the ground through loops on the bottom edges of the crate. It also folds up flat for easy storage.
This is the best soft-sided dog crate for large dogs who need lots of space. There are smaller options as well, but the extra-large size is best. Unlike other crates, this one has large covers on each side that zip open to expose screen windows. These windows help to make the crate feel more open, and you can watch your dog while he's inside of it.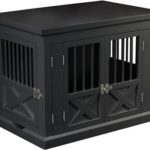 Dogs deserve to live in luxury. As a pet owner, you also deserve to have a dog crate that looks nice in your house. There is no reason that you should have to only have a wire crate. Furniture crates are also nice because they come in many different styles and they're made of wood, which will last a long time.
If a plastic dog crate is what you prefer, then you should buy the Navigator crate made by Petmate. They are so easy to clean and can be taken almost anywhere. This one comes in many sizes, including extra-small, small, medium, intermediate, large, and extra-large. The large size is big enough to fit a dog the size of a golden retriever, as you can see in the picture above.
How to Train Your Dog to Go Inside a Crate
Not all dogs are on their best behavior and absolutely despise getting into a dog crate, no matter what type of crate it is. Of course, soft crates and other nice-looking crates help make it feel less like a cage and more like a bed, but some dogs just hate it no matter what. Fortunately, there are few things you can do that will encourage them to go inside of it.
The first method you should try is a treat reward system. This should make your dog like the crate more. Start by telling your dog a few times that it's time to go to bed or it's time to get in the kennel. If you constantly use the same phrase right before putting them in the crate, they'll learn what it means. Bribe them with a treat and put one towards the back of the crate so that they must go inside of it to retrieve the treat.
Once they go inside the crate, quickly close the door and then reward them with another treat. It's helpful to have a crate that has some type of opening on the top so that you can slip a treat inside. Only use treats that are small and contain healthy ingredients, especially if you plan on using several in a short amount of time while training.
Another method is to move their bed into the crate. Some dogs will follow their bed anywhere if they really love it.
The third method you can try is to put their favorite toy in the crate. Make sure that you tell them that it's time to go in the kennel and then show them their toy and throw it in the crate. Hopefully, they go after it, and then you can shut the door behind them.
Never use violence to put your dog in their crate; this will only make them despise it even more.
Dog Crate Accessories
Dog crates are cold, lonely, and uncomfortable for dogs if there is no padding or anything familiar inside of it. Upgrade and complete your dog crate by adding a dog bed that is designed to fit dog crates; you can find one on Amazon or chewy.com